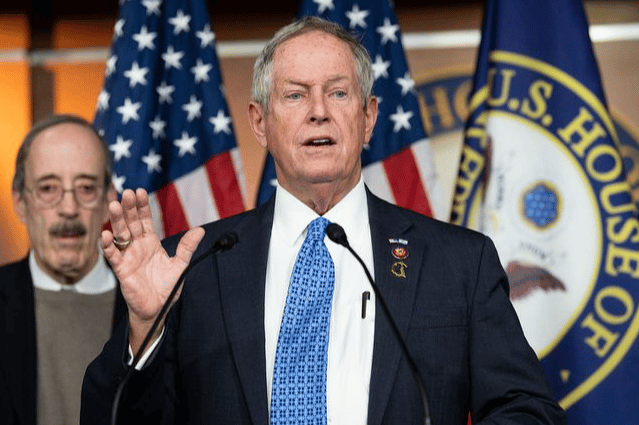 Long-serving Republican Representative Joe Wilson of South Carolina has put forward a resolution that calls for displaying a bust of Ukrainian President Volodymyr Zelenskyy in the U.S. Capitol.
Wilson has served as a House lawmaker for more than two decades.
"Resolved, That the House of Representatives directs the Fine Arts Board to obtain a bust of the President of Ukraine, Volodymyr Zelenskyy, for display in a suitable, permanent location in the House of Representatives wing of the United States Capitol," the resolution states.
What next? flying the Ukrainian flag in the Capitol? Oh wait, that already happened.
Here's the story from The Washington Times:
A Republican congressman is proposing to place a bust of Ukrainian President Volodymyr Zelenskyy in the House wing of the U.S. Capitol.

Rep. Joe Wilson of South Carolina filed a resolution earlier this week directing the Fine Arts Board of the U.S. House of Representatives to obtain a bust of Mr. Zelenskyy for display.

The board has authority over all works of art and historical objects displayed on the House wing of the U.S. Capitol and the associated office buildings.

Mr. Wilson, who has served in Congress since 2001, is a senior member of both the House Armed Services and Foreign Affairs committees. Earlier this year, he was tapped to lead an internal GOP task force focusing on national security.

A staunch conservative, who came under fire for shouting "you lie" at former President Obama during a 2009 address to Congress, Mr. Wilson has emerged as a strong supporter of Ukraine.

In December, he told the Charleston Post and Courier that Ukraine's fight against Russian aggression reminded him of the American Revolution.
Zelenskyy and the people of Ukraine "fully understand the meaning behind the American Revolution mottos of Don't Tread On Me and Live Free or Die," Wilson said in a December tweet. "The United States stands with Ukraine for victory."
Last month, while addressing a joint meeting of the U.S. Congress, Zelenskyy declared, "Your money is not charity. It's an investment in the global security and democracy that we handle in the most responsible way."
Republican Representative Thomas Massie of Kentucky responded by tweeting, "It is not charity. Charity would be given freely. The American taxpayers have been conscripted into making welfare payments to this foreign government."
The U.S. has given nearly 100 billion American taxpayer dollars in aid to Ukraine to help them fight against the Russian invasion.
Last month, Congress passed an around $1.7 trillion omnibus package that ran thousands of pages long — the mammoth measure included billions more dollars in assistance for Ukraine.