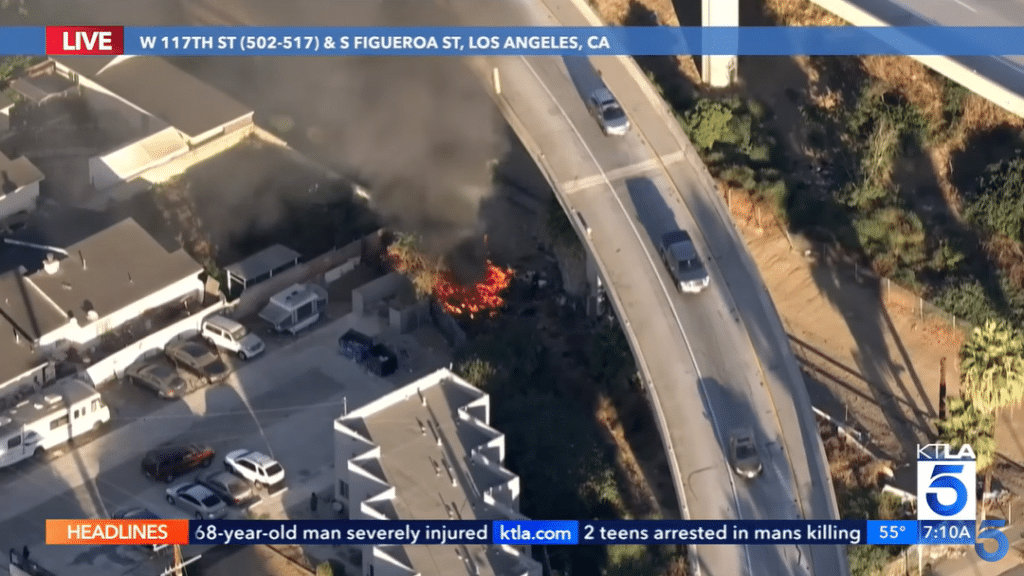 Another fire erupted beneath a Los Angeles freeway, this time under the 105 and 110 freeway interchange, just days after the closure of the 10 freeway following a massive blaze.
Reports indicated that the fire, which occurred on Tuesday morning, originated from a homeless encampment and quickly spread.
KTLA 5's Rich Prickett, observing from Sky5, said, "From what we're seeing here from Sky5, it would appear that it is some sort of encampment that is burning under the overpass. For right now it's contained in that one little area."
As of Tuesday morning, authorities confirmed that the fire had been fully contained, and fortunately, there were no reported injuries.
From KTLA (Excerpt):
Just days after a massive blaze destroyed part of the 10 Freeway in downtown Los Angeles, another fire broke out under a different freeway.

Calls regarding active flames first came in from commuters driving near the interchange of the 105 and 110 freeways in South Los Angeles around 7 a.m. Tuesday morning.

Footage from Sky5 showed a patch of land burning next to the transition ramp between the eastbound 105 and southbound 110 near residences on a dead-end street.

Traffic was beginning to slow down on the 105, and Caltrans workers were seen on the shoulder of the freeway working to get a better angle to contain the active flames. Residents of nearby homes and apartment buildings were also seen stepping outside to get a better look at the fire.
Watch:
A massive fire in Los Angeles led to the closure of a part of the 10 freeway near a homeless encampment on Saturday. The fire was initially reported at around 12:30 am on Saturday beneath the 10 freeway at Alameda and East 14th Street.
The fire's size and intensity resulted in the melting of some steel guardrails and caused damage to fire trucks.
The State Fire Marshall established an anonymous tip line for reporting information.
The homeless encampment under the 10 freeway was completely destroyed in the fire. After the massive blaze on Saturday, 16 homeless people, including a pregnant woman, were relocated.
On Monday, officials disclosed that the cause of the massive fire near a homeless encampment beneath the 10 Freeway in Los Angeles on Saturday was a result of arson.
What's left of the homeless encampment beneath the I-10 freeway in LA. pic.twitter.com/kgBeTlkLRZ

— Ian Miles Cheong (@stillgray) November 13, 2023