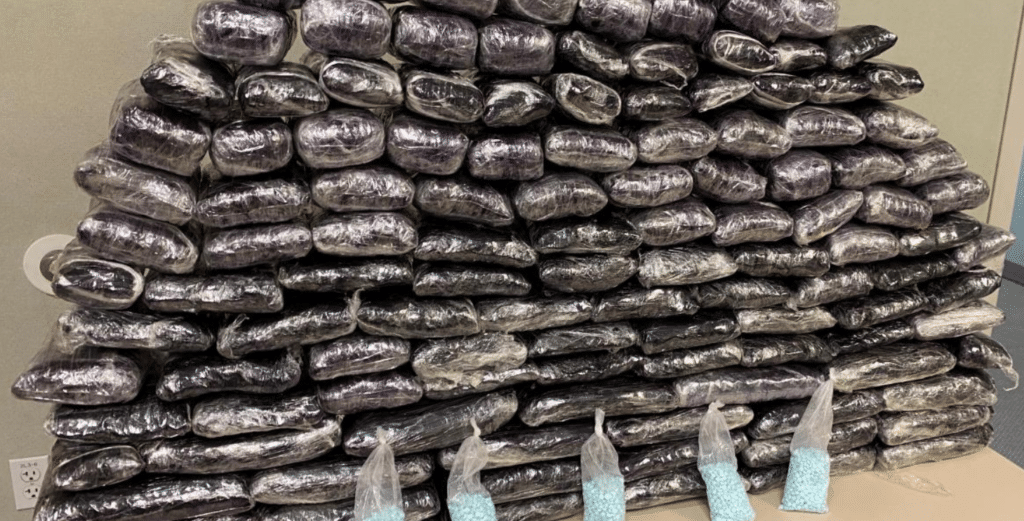 If we've learned anything in the last three years, it's that stolen elections have catastrophic consequences.
Arizona's "governor" Katie Hobbs has left the border wide open to criminal drug traffickers and illegal immigrants since taking office.
According to a new report from the Arizona District Attorney's office, Mexican resident Juan Alfonso Torres-Rodriguez was charged on March 8 with possession of more than one million pills (approximately 108 kilograms) suspected of containing fentanyl with intent to distribute across the state.
Additionally, roughly 2.5 million fentanyl pills, likely enough to kill over one million people, were also seized by Arizona Border Patrol agents at the Nogales Port of Entry last week.
The duly elected Governor of Arizona, Kari Lake, had a plan to secure the border, but unfortunately, Katie Hobbs stole her election. Lake's plan included issuing a declaration of invasion under the 10th Amendment, finishing President Trump's wall, and deploying the Arizona National Guard and State Troopers to take back operational control of the border starting on "day one."
Maricopa County Superior Court Judge Peter Thompson, who wrongly dismissed Kari Lake's election lawsuit on Christmas Eve., issued a new order Thursday, setting the schedule for review of Kari Lake's signature verification challenge in the 2022 election, after the Arizona Supreme Court ruled that the trial court must reconsider this issue.
Kari Lake called the seizure of millions of fentanyl pills a "Weapon of Mass Destruction":
Lake: Alternate headline: Mexican Resident Caught in Possession of Weapon of Mass Destruction with intent to Sell in Arizona.

2 mg of fentanyl will kill you. We need to be doing everything possible to close the border and stop the spread of this poison.
Arizona Sun Times reports:
The Arizona District of the Department of Justice (DOJ) announced Wednesday that Mexican resident Juan Alfonso Torres-Rodriguez, 27, has been charged with possessing over 1 million fentanyl pills with an intent to sell them in the state.

According to the DOJ's report, officials witnessed Torres-Rodriguez participating in a drug transaction in early March. From there, authorities searched his residency and vehicle to discover approximately 108 kilograms of fentanyl.

"A conviction for Possessing 400 Grams or More of Fentanyl for Distribution carries a mandatory minimum sentence of 10 years in prison with a maximum penalty of life in prison, a fine of up to $10,000,000, and five years up to a lifetime of supervised release," according to the report.

However, a charge is merely an allegation of a crime, and the suspect is innocent until proven guilty. This investigation was conducted by the U.S. Drug Enforcement Administration (DEA).

According to the DEA, fentanyl is highly deadly, and just 2 milligrams of the substance can be fatal to users, depending on their tolerance. Forty-two percent of illicit fentanyl pills tested by the administration contain over this lethal amount. If Torres-Rodriguez's stash resembled this 42 percent statistic, he could have caused around 420,000 overdoses with his supply.

Trending: Ray Epps Sends Letter to Tucker Carlson Demanding Retraction by March 31 #FedEpps

As reported by ABC 15, the DEA has issued a warning stating that it has found Xylazine, a heavy sedative only approved for animals, is being mixed into illicit fentanyl pills. Reportedly, combining the two substances creates a more potent high when taken but also puts users at a higher risk of death. Because Xylazine is not an opioid like fentanyl, the opioid treatment medicine, Narcan, is less effective in preventing an overdose.