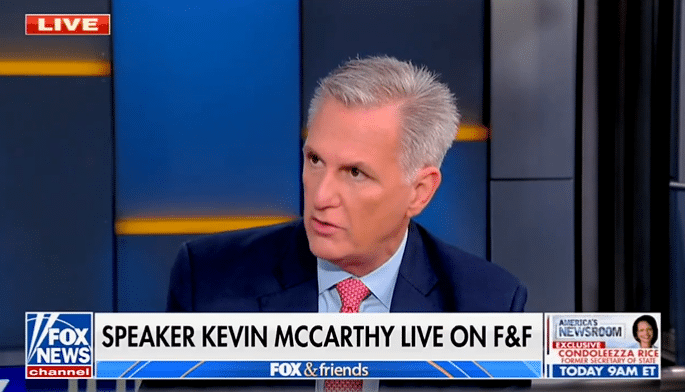 House Speaker Kevin McCarthy (R-CA) declared that if the allegations made by IRS whistleblowers are proven to be true, an impeachment inquiry against Attorney General Merrick Garland will commence by July 6.
The House Ways and Means Committee released the testimonies of veteran IRS employees who were directly involved in Hunter Biden's tax evasion case. These whistleblowers revealed various anomalies and blatant corruption associated with the case. One notable instance involved Assistant U.S. Attorney Lesley Wolf tipping Hunter Biden off about an impending raid conducted on his storage unit in Northern Virginia.
It was also revealed that Hunter Biden threatened his Chinese business partner while demanding payments and claiming that he was sitting next to his father, Joe Biden. Photos retrieved from Hunter's laptop confirm his presence at Joe Biden's Wilmington property on the same day the message was sent.
Furthermore, IRS investigators were instructed to "stand down" and ordered to refrain from pursuing allegations related to Biden's influence peddling.
House Speaker Kevin McCarthy took to Twitter on Sunday, to announce the initiation of impeachment proceedings against Merrick Garland by July 6, should these reports prove accurate. McCarthy emphasized the need for uncovering the truth, addressing the discrepancies, and called for U.S. Attorney David Weiss to provide answers to the House Judiciary Committee. He stated that if the whistleblower allegations were verified, it would be a part of a broader impeachment inquiry into the politicization of the Department of Justice by Merrick Garland.
During an appearance on Fox and Friends Monday morning, McCarthy reiterated the House GOP's stance, "By July 6, because of the allegations from the IRS, because of the whistleblowers and the DOJ… Garland what he is saying and what David Weiss is saying, privately, are two different things," McCarthy said. "And if it comes true what the IRS whistleblower is saying, we're gonna start impeachment inquiries on the attorney general."
Watch:
During a press conference held on Friday, Attorney General Garland defended the investigation into Hunter Biden, asserting that it was conducted fairly and thoroughly. He highlighted the fact that U.S. Attorney David Weiss was appointed by President Trump, suggesting it as evidence of impartiality. Additionally, it has been reported that Weiss has acknowledged the credibility of the whistleblowers' claims and expressed concerns about the handling of the investigation.
Garland has also stated that any criticisms of his Department of Justice amounts to an "attack" on Democracy.