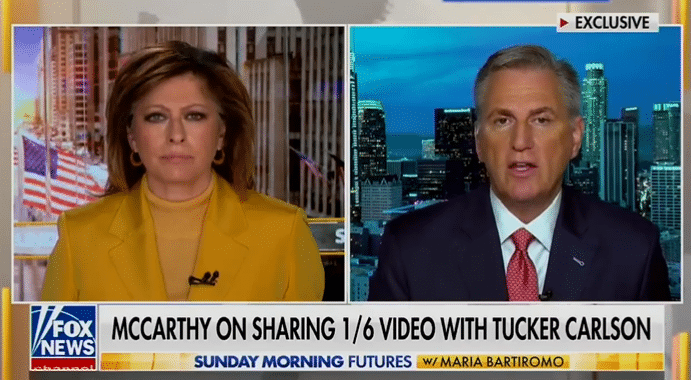 The establishment's deceptive "deadly insurrection" narrative is crumbling.
Kevin McCarthy initially gave Tucker Carlson exclusive access to the 40,000+ hours of J6 footage, but it's obvious that FOX News has put a stop to Carlson sharing more of that footage.
McCarthy said that he "will slowly roll out [the J6 footage] to every individual news agency."
McCarthy maintained that the American people should be allowed to see all of the surveillance footage from the Capitol Building from January 6, 2021, during an appearance on Sunday Morning Futures with Maria Bartiromo.
Watch:
The Hill reported:
Speaker Kevin McCarthy (R-Calif.) said on Sunday that he will begin to "slowly roll out" access to official tapes from the Jan. 6, 2021, insurrection to other news outlets, after he faced criticism for giving Fox News host Tucker Carlson an exclusive look at the footage.

"We will slowly roll out to every individual news agency. They can come see the tapes as well," McCarthy said in an interview with Fox News's "Sunday Morning Futures." "Let everyone see them to bring their own judgment."

…

And as he says he plans to give other news outlets access to the tapes, McCarthy is campaigning for what he says is "equal justice" in the U.S., pointing to rioters and demonstrators in a number of cities around the country after unrest following police misconduct and brutality.

"But one thing I understand in America, we should have equal justice," McCarthy said. "What really raises the point with me is, why did I watch federal courts, why did I watch cities burn, federal agencies or something, and nobody arrested there? I think we should have equal justice across this country."
It will be interesting to see whether or not the other news outlets will finally report the truth.