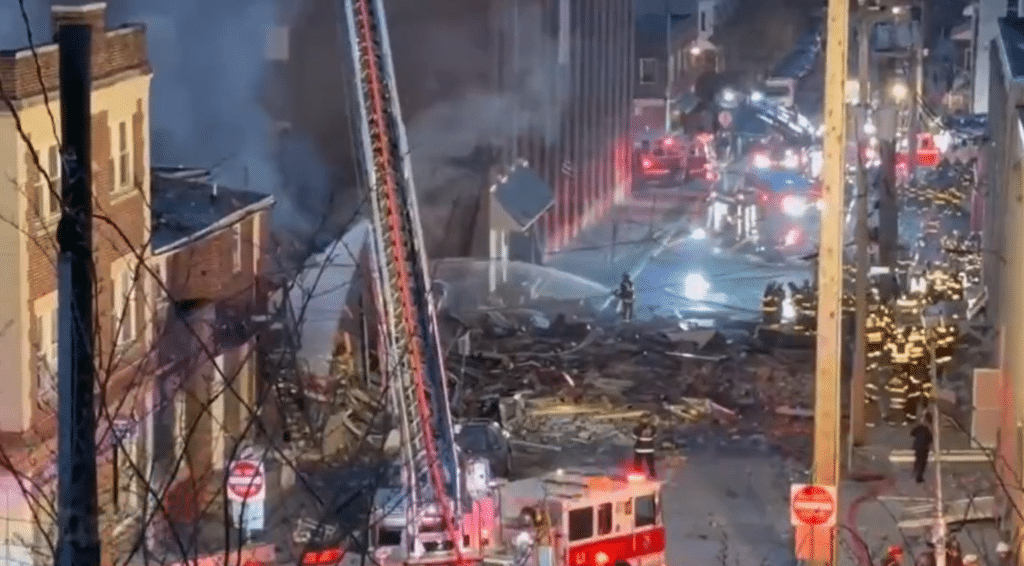 Two people have died, and nine others are reportedly missing after a massive explosion at the historic RM Palmer company chocolate factory in West Reading, Pennsylvania early Friday evening.
At least eight people were admitted to Reading Hospital.
The explosion reportedly occurred around 5 p.m. at the RM Palmer Company and caused an enormous fire afterward.
Multiple people were inside the factory when the explosion occurred.
One of the factory's buildings and a neighboring property were destroyed.
Here's footage of the massive explosion:
NBC 10 Philadelphia reported:
Two people are dead and there are nine people still unaccounted for after an explosion at a chocolate factory in West Reading, Pennsylvania late Friday afternoon.

Eight people have been admitted to Reading Hospital. Two were admitted in "fair" condition, one patient was transferred and all others will be discharged, according to the hospital.

At approximately 4:57 p.m. a large explosion occurred at the R.M Palmer Company in West Reading. The explosion resulted in the destruction of building No. 2 located at 55 S 2nd Avenue and damaging neighboring Palmer building No. 1 located at 77 S 2nd Avenue, Chief of Police at the West Reading Borough Police Department Wayne Holben said.

The Mayor of West Reading, Samantha Kaag, said the building where the explosion occurred was leveled and the force of the explosion moved the building four feet forward.

The cause of the explosion is currently under investigation. While there is no danger to the surrounding area at this time, Chief Holben said the borough is urging residents to avoid the area.
Watch:
Palmer has been a major producer of Easter candy since 1948. Easter is just two weeks away. But that is probably just a coincidence.
"Today, 850 dedicated employees design, produce, package and ship more than 500 unique products from Palmer's headquarters in West Reading, Pa. – making it one of America's largest and most innovative confectioners," Palmer's website says.