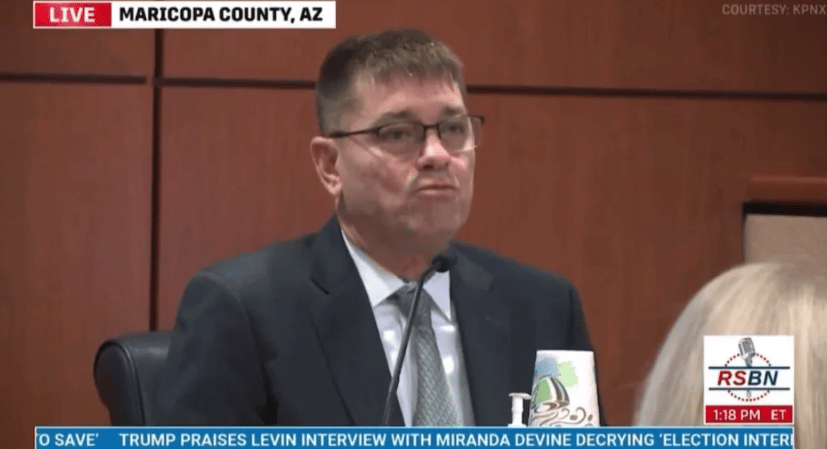 Today is day one of the Lake v. Hobbs trial, and the Kari Lake's legal team is NOT holding back.
One of the key revelations is that ballots were inappropriately printed on the wrong paper.
The ballots are supposed to be 20 inches long and printed on 20-inch-long paper.
Instead, 42% of the ballots (48 out of 113 ballots) inspected by investigators in Arizona Election Challenge were 19-inch ballots printed on 20-inch paper, causing a paper jam error to occur on the tabulators.
The ballots were all printed at Runbeck Company, a printing corporation run by a very liberal Arizona family that strictly donates to Democrat candidates and causes.
The flawed ballots were handed out on Election Day when officials knew Republicans would come out in force.
This led to widespread issues on election day.
72% of voters on Election Day were voting Republican.
Only 17% of the voters that day were voting Democrat.
A cyber security expert on Wednesday testified under oath that using the wrong size ballots on Election Day caused them to be rejected.
The cyber security expert also testified that the issue of the wrong size ballots being used could not have happened by mistake.
Interestingly, these issues didn't happen during early voting.
It only happened on election day, when Maricopa officials knew that Republicans were more likely to turn out.
What are the odds of that happening organically?
No wonder the defendants did not want the ballots to be inspected.
Watch:
The Post Millennial reported:
Ballots reviewed in Wednesday's examination of ballots cast in Maricopa county for November's gubernatorial elections were not valid, according to Republican Candidate Kari Lake's legal team. A tweet from the Lake War Room said that 48 of 113 ballots reviewed during the examination were "19-inch ballots produced on 20-inch paper,"

"This one-inch discrepancy cause chaos on Election day. Causing the mass rejection of these votes as they were attempted to be read through the tabulators," the Kari Lake War Room wrote on Wednesday, as the former broadcaster's legal team seeks to prove that election tampering took place, leading to the victory of her opponent Katie Hobbs.