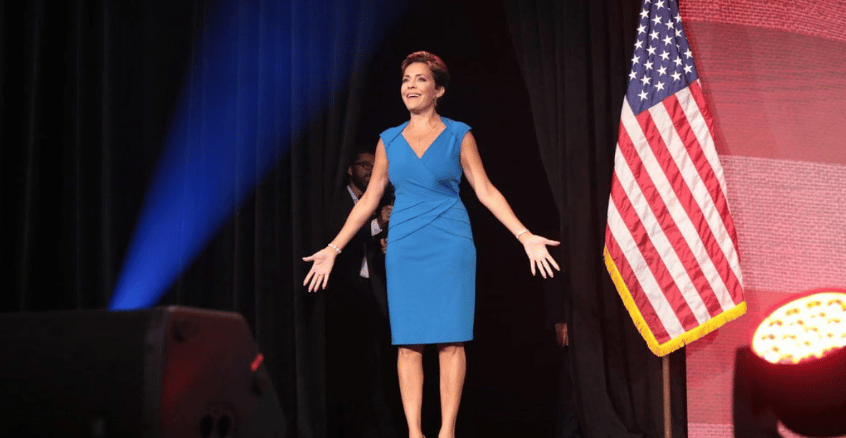 On Sunday, Kari Lake filed a petition to transfer her appeal to the Arizona Supreme Court after the Maricopa County court dismissed her election fraud lawsuit.
Superior Court Judge Peter Thompson dismissed the lawsuit on Christmas Eve, despite the evidence of massive voter disenfranchisement targeting Republicans and obviously false testimony by County Elections officials.
Katie Hobbs is set to take office this week after her highly questionable election win.
Maricopa County dismissed eight of Lake's 10 counts.
"I am standing up for the people of this state. The people who were done wrong on Election Day and the millions of people who live outside of Maricopa County, whose vote was watered down by this bogus election in Maricopa County," Lake told Steve Bannon.
Watch:
"A new Governor is scheduled to be seated under a cloud of electoral uncertainty and impropriety. This action requires this Court's speedy, final resolution, without resort to an intermediate decision by the Court of Appeals," the petition stated.
"WHEREFORE, this Court should transfer and expeditiously hear the special action pending in the Court of Appeals," the conclusion said.
Editor-in-Chief of UncoverDC Tracy Beanz shared Lake's petition:
Just the News reported:
Lake has not [allegedly] widespread voter fraud cost her the election, but argues problems with the state's election system contributed to her narrow loss.

Maricopa Judge Peter Thompson has also rejected a request by Democrat gubernatorial candidate Katie Hobbs, who has been declared the winner of the race, to sanction Lake for the lawsuit. However, he ordered her to reimburse Hobbs for some trial costs, with interest.