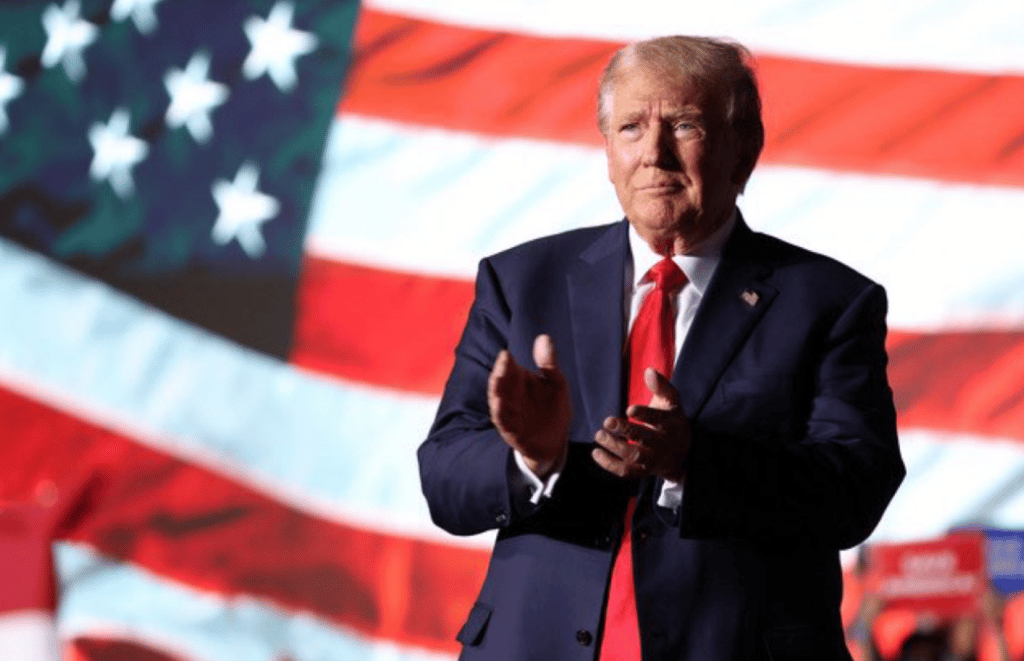 Trump officially announced that he will run for President of the United States in 2024.
Prior to President Trump's official announcement, it was reported by multiple outlets that he filed FEC paperwork to run in 2024 on Tuesday.
President Trump made his announcement live on Tuesday night from his home at Mar-a-Lago.
Watch via RSBN:
Timeline of the video via WeLoveTrump:
9:01 EST
President Trump enters Mar a Lago ballroom
400,000 people watching on Rumble alone!
9:05 EST
"America's comeback starts right now."
"There was never a time like this. We turned the page on globalists… Together, we built the greatest economy in the history of the world.
9:07 EST
After decades of rising energy costs, we were finally energy independent due to my administration.
9:10 EST
My term was a term of peace. The first president without starting a new war.
Look at what's happening today.
The world was at peace.
Today, the world is on fire.
As we speak, inflation is the highest in 50 years.
9:12 EST
Afghanistan perhaps the most embarrassing moment in American history.
Ukraine would have never happened if I was president.
9:13 EST
Now we have a president who falls asleep at global conferences.
He's leading us to the brink of nuclear war.
9:17 EST
Addresses midterms: My endorsements won 233 and only lost 22. You don't hear that from the media.
9:20 EST
Endorses Herschel Walker
Republicans won the popular vote by 5 million votes
9:25 EST
Together, we will be taking on the most corrupt forces and entrenched interests imaginable… This is not a task for a politician or a conventional candidate. This is a task for a great movement.
This will not be my campaign. This will be our campaign all together. Because the only force strong enough to defeat the massive corruption we are up against is you, the American people.
9:34 EST
Joe Biden is the face of left-wing failure and Washington corruption.
9:35 EST
The radical left Democrats have embraced an extreme ideology of government domination and control. Our approach is the opposite, based on freedom, values, individual responsibility and just plain common sense.
9:36 EST
In 2020, I received the largest number of votes of any sitting president in history by a lot and we will do it again but with even more votes this time.
"I can't imagine saying let's put America last… We will again put AMERICA FIRST!"
9:45 EST
"On day one, we will end Joe Biden's war on American energy… When that happens, you will see energy costs come down."
9:53 EST
"We are going to restore and secure America's borders just like we had them before. We built the wall and now we will add to it."
9:54 EST
"I will restore public safety in American cities… People are being shot and killed at random like nobody has ever seen before… The cities are rotting, they are indeed cesspools of blood. We are going to help them even if they don't want the help."
9:56 EST
"Every drug dealer during his or her life on average will kill 500 people with the drugs they sell, not to mention the destruction of families. We are going to be asking everyone who sells drugs, gets caught selling drugs to receive the death penalty."
10:00 EST
"We will abolish every Biden covid mandate and rehire every patriot who was fired from our military with an apology and full back pay."
10:05 EST
"I will push a constitutional amendment to impose term limits on members of Congress. I will ask for a permanent ban on taxpayer funding of campaigns, a lifetime on lobbying by former members of Congress.. a ban on members of Congress trading stocks on insider information"
10:07: EST
"Paper ballots, same day voting, voter ID and we want all votes counted by election night."
10:11 EST
"The gravest threats to our civilization are not from abroad but from within. None is greater than the weaponization of the justice system. We must conduct a top to bottom overhaul to clean out the festering rot and corruption of Washington DC."
10:12 EST
"When I'm in the White House, our schools will cease pushing Critical Race Theory as they were, radical civics, and gender insanity, or they will lose all federal funding. We will get them to stop."
10:14 EST
We will make America powerful again. We will make America wealthy again. We will make American strong again. We will make America proud again. We will make America safe again. We will make America glorious again. We will MAKE AMERICA GREAT AGAIN.