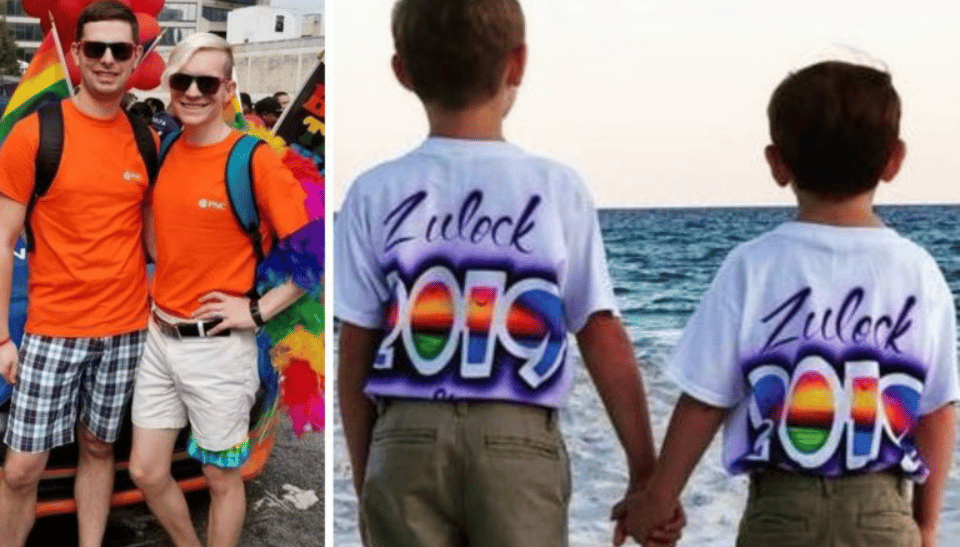 An investigation from Townhall has revealed that a prominent LGBT activist couple ran a large-scale child pedophilia ring in the Georgia suburbs, all the while the predators were being lauded by leftists and given children by adoption agencies who they pimped out to perverts.
The story about the couple's horrifying alleged crimes on their adopted children continues to unfold. The journalist who originally broke the story revealed more disturbing details on Wednesday regarding their crime operation and co-conspirators.
"Not only did the married men allegedly rape the two boys who were adopted through a Christian special-needs adoption agency, they were pimping out their children to nearby pedophiles in Atlanta-area suburbs," Mia Cathell with Townhall stated.
The indictment obtained by Townhall showed that "the adoptive dads allegedly performed oral sex on both boys, forced the children to perform oral sex on them, and anally raped their sons. In at least one instance, the anal rape injured the older Zulock child, who just turned 11-years-old in mid-December. Court records indicate that the child sexual abuse stretches back to as early as late 2019 and intensified in January 2021, March 2021, and December 2021, as the offense dates are listed."
According to a sworn affidavit, one of the predators admitted to forcing an 11-year-old boy to perform acts of oral sex on him. The other predator was reportedly a voyeuristic camera man who recorded the heinous acts. They also reportedly pimped out their children to area pedophiles who they networked with through social media.
The New York Post reported:
But the shocking investigation reveals in more detail the sickening abuse the boys suffered.

For the first time, it was revealed that the men allegedly pimped out their older sons, now 11 and 9 years old, to two other men in a pedophile ring.

One of the men, Hunter Clay Lawless, 27, told investigators that Zachary — whose Instagram bio describes him as "Papa to our two wonderful boys" and an "activist" — invited him "multiple times" to take part in sexually abusing the boys, Townhall reported.

However, Lawless claimed he never had physical contact with either child.

Lawless also claimed Zachary sent him multiple messages on Snapchat, including one that allegedly read, "I'm going to f— my son tonight. Stand by," along with images of himself sexually abusing the 11-year-old, according to the outlet.
Here is Cathell's Twitter thread with details regarding the involvement of accused co-conspirators Lawless and Vizcarro-Sanchez:
Count 16 and Count 17 of the indictment charges the Zulock couple with soliciting 27-year-old Hunter Clay Lawless and 25-year-old Luis Armando Vizcarro-Sanchez, both of Loganville, to engage in "an act of prostitution" with their 11-year-old adopted boy.
Cathell notes in her article that several other individuals are under investigation by Geoegia authorities as potential co-conspirators:
Aside from Lawless and Vizcarro-Sanchez, there are other potential co-defendants in the ongoing Georgia criminal case that are still under investigation and "out there" distributing videos of the Zulock boys, Alcovy Judicial Circuit District Attorney Randy McGinley, who serves Walton County, told the court at a Sept. 7 bond hearing, according to a transcript provided to Townhall.
Cathell suggests federal child sex trafficking charges should be on the table as well. Contrary to popular belief, federal law does not require proof that either perpetrator or the victim crossed state or international lines in order for child sex trafficking to apply:
"Most people think of 'trafficking' as involving movement across state or international borders. However, Section 1591 does not require proof that either the defendant or victim crossed state or international lines," per the DOJ. "When the victim is a minor, Section 1591 does not require proof that the defendant used force, threats of force, fraud, or coercion, or any combination of those means, to cause the minor to engage in a commercial sex act."
More from The New York Post story:
Deputies responding to reports that a man was downloading child porn raided the home in Loganville, where they found evidence the pair "were engaging in sexually abusive acts and video documenting this abuse," police said at the time.

During the raid, William was pulled out of his home naked.

The government worker has admitted to forcing one of his sons to perform oral sex on him "with the intent to satisfy his own … sexual desire," according to a sworn affidavit cited by the Daily Wire.

The Zulocks adopted the children from a Christian special-needs adoption agency.

His husband admitted sending child sexual abuse material to several people, according to the news outlet.

The couple have been active in the local LGBTQ community.

Prominent LGBTQ publication Out magazine reportedly asked to feature their photos on its website, according to the Daily Wire.

Townhall said it spent months reviewing recorded jailhouse calls, court documents and testimony from a relative who spoke exclusively with the outlet about the extent of the abuse, as well as the "faster-than-expected" adoption process that led to the nightmare.

William and Zachary, who have pleaded not guilty, each face over nine life sentences if convicted.
Townhall previously reported, the Biden administration's DOJ is preoccupied with targeting peaceful pro-lifers and rounding up elderly Christian preachers who stand up for innocent unborn life. One father, who protested outside of an abortion clinic in Tennessee, was arrested at home by a swarm of armed FBI agents in front of his children.