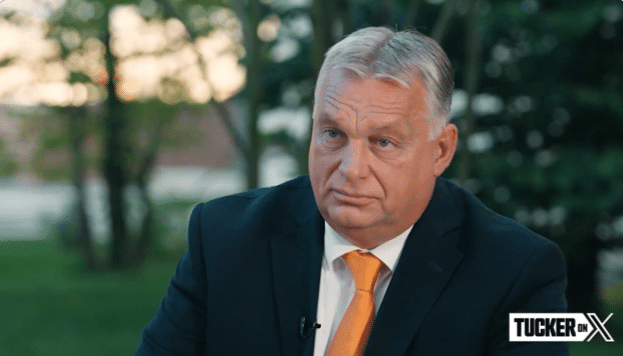 Tucker Carlson sat down with Hungarian Prime Minister Viktor Orbán in Budapest a second time, following their 2021 Fox News interview. According to Orbán, if Donald Trump were in power, the Russian invasion of Ukraine would not have been possible. Trump's foreign policy was hailed as the best in decades.
Challenging the notion that Ukraine is winning the war, Orbán dismissed it as a falsehood. He emphasized that it is not a mere misunderstanding but a deliberate lie. Orbán stated that the logic, figures, and data clearly indicate the improbability of Ukraine's success.
Expressing sorrow for the loss of Ukrainian lives, Orbán acknowledged that it is a tragedy for the nation. However, he asserted that Ukraine will exhaust its soldiers before Russia does. The crucial factor lies in the number of boots on the ground, in which the Russians maintain a significant advantage. According to Orbán, the current strategy supported by the West is characterized by inadequate engineering.
Tucker Carlson pointed out that the Biden Regime aims to achieve "regime change in Russia, to eliminate Putin." Orbán commented on the difficulty of understanding the Russians, especially when there is an ocean between them. When Westerners discuss politics, their focus is predominantly on "freedom," according to Orbán.
"The Russians will not kill their leader. They will never give up."
In Russia, the focus lies in "how to keep the country together. It's a very big country," Orbán explained. This emphasis leads to a military approach, "security, buffer zones, geopolitical approaches. It's legitimate to have that, because it's their history. We have to understand that we cannot beat them as we do now. They will not kill their leader. They will never give up. They will keep together their country, and they will defend it."
"If we finance more, they will invest more", stated Orbán. "If the West sends more technical equipment, Russia will also produce more," he added. According to Orbán, the notion that Russians would grow tired of Putin is simply "a joke."
Eventually, Tucker asked Orbán, "If you were in charge of NATO, if you were say Joe Biden, what would your next move be in the war in Ukraine? What would you do?" Orbán answered, "Peace immediately. Call back Trump. That's the only way out."
Tucker asked him, "Call back Trump?"
"You can criticize him for many reasons…" Viktor Orbán said. But Donald Trump had "the best foreign policy of the recent several decades belong to him. He did not initiate any new wars. He treated nicely the North Koreans nicely, Russia, even the Chinese. He delivered a policy which was the best for the Middle East: The Abraham Accords. So, that was a very good foreign policy."
"Trump is the man who can save the Western world," Orbán declared.
Watch:
Ep. 20 Hungary shares a border with Ukraine. We traveled to Budapest to speak with the country's prime minister, Viktor Orbán. pic.twitter.com/LOzpMrQNIz

— Tucker Carlson (@TuckerCarlson) August 29, 2023