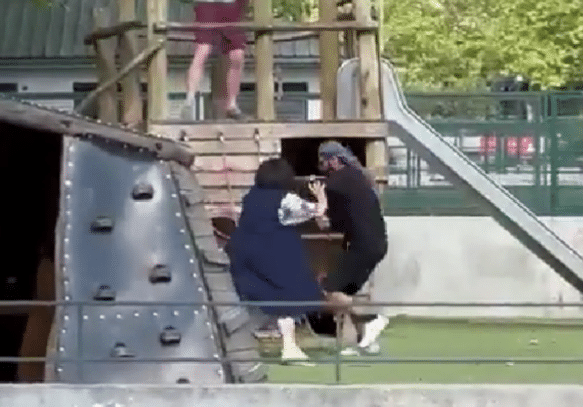 A distressing incident occurred in a park near Lake Annecy, a town in the French Alps, where four very young children were stabbed. The attacker was swiftly subdued and apprehended by the police, as reported by Interior Minister Gérald Darmanin.
Initial reports indicated varying numbers of injured individuals, with some estimates as high as eight. However, the latest report confirms that four children and two adults sustained injuries in the attack. Out of those injured, two children and one adult are currently hospitalized in critical condition with life-threatening injuries. Among the injured children, one is a British national, as noted by UK Foreign Secretary James Cleverly, while another child is of Dutch nationality.
The suspect, identified as a 31-year-old Syrian, held refugee status in Sweden, as confirmed by the police.
Regional deputy Antoine Armand described the attack as "abominable." He mentioned that authorities are currently conducting an investigation but have limited information at this stage.
A video capturing a minute and a half of the attack was shared on social media, although it's too graphic to be broadcasted widely. The footage shows a peaceful playground with children playing and their parents or caretakers present. Suddenly, a man enters the scene, brandishing a knife, and chaos ensues. It becomes evident that the attacker is specifically targeting children and one child in a stroller becomes a victim.
Amidst the chaos, a distressed mother can be heard screaming. Another man can be seen bravely holding a backpack and making repeated attempts to divert the attention of the attacker, aiming to create a diversion and protect those in danger.
According to the authorities, the attacker has no prior criminal or psychiatric record. Additionally, it was revealed that the assailant has a child of similar age to the children he targeted in the attack.
The video of the attack is repeatedly being removed by Twitter.
Video of the pursuit and arrest is not being censored on Twitter:
French President Emmanuel Macron shared an online statement expressing his strong condemnation of the despicable attack.
"Attack of absolute cowardice this morning in a park in Annecy. Children and an adult are between life and death. The Nation is in shock. Our thoughts are with them as well as their families and the emergency services mobilized."
From Reuters (Excerpt):
Prime Minister Elisabeth Borne said the suspected attacker, who was in police custody, was a 31-year old Syrian national who was granted asylum in Sweden 10 years ago. He had entered France legally, she said, and was carrying Swedish identity documents and a Swedish driving license.

The local prosecutor leading the investigation said there was no indication that terrorism was the assailant's motivation. He was under investigation for attempted murder.

…The four children were just toddlers, aged between 22 months and three years, Annecy prosecutor Line Bonnet-Mathis told reporters.

One of them was a British national, another was Dutch, Bonnet-Mathis said.

…The incident took place at around 0745 GMT in Le Paquier park in Annecy, a town in the French Alps.