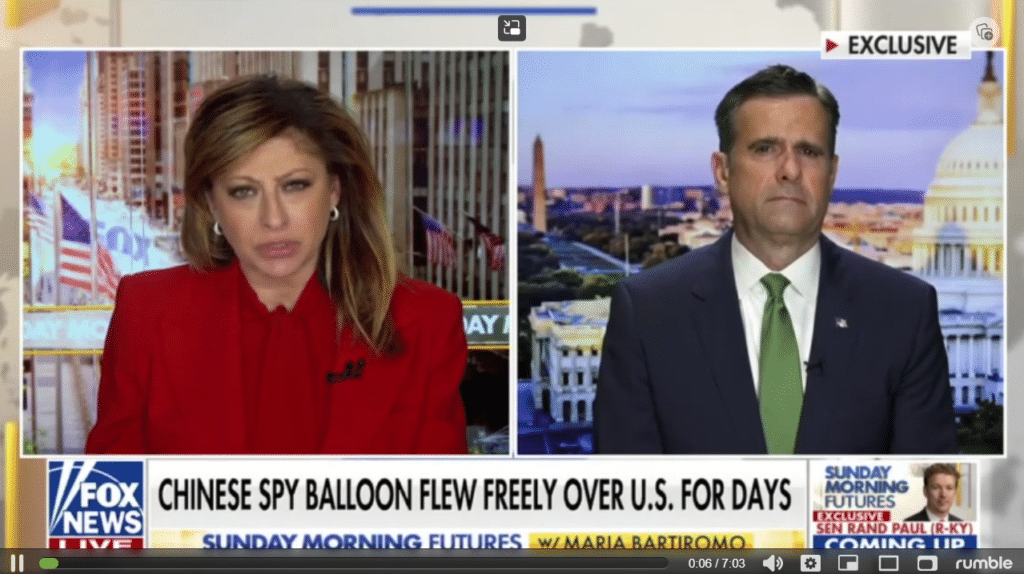 Former Director of National Intelligence (DNI) John Ratcliffe joined Maria Bartiromo this morning on Sunday Morning Futures.
John Ratcliffe was DNI under President Trump.
On Saturday the Biden regime admitted the China spy balloon was first spotted a week earlier in Alaska back on January 28, and flew from there into Canada and down into the continental US. On Tuesday the balloon entered Idaho and crossed the US for the next four days. The China spy balloon was then shot down after it left US territory, presumably after it had already collected the data it was looking for.
This was an unprecedented event in US history.
The fake news is trying to convince Americans that these China spy balloons always cross the US. In fact, fake news insisted that this happened during the Trump years – three times.
On Sunday morning FOX News reporter, Maria Bartiromo, pushed back on these claims. She spoke with Michael Bolton, Ric Grenell, Former Defense Secretary Mark Esper, and others who said that this is a lie, it never happened during the Trump years.
Former DNI John Ratcliffe is the latest to confirm that this media report is another media lie to protect Democrats and brain-dead Joe Biden.
John Ratcliffe: It's not true. I can refute it. Former Secretary of Defense Mark Esper refuted it yesterday, former Secretary of State and CIA Director Mike Pompeo has refuted it. But Maria, the American people can refute it for themselves. Do you remember during the Trump administration when photographers on the ground and commercial airline pilots were talking about a spy balloon over the United States. The people could look up and see it with the naked eye. And a media that hated Donald Trump wasn't reporting. I don't remember that either because it didn't happen.
Watch:
This story was originally reported by The Gateway Pundit.