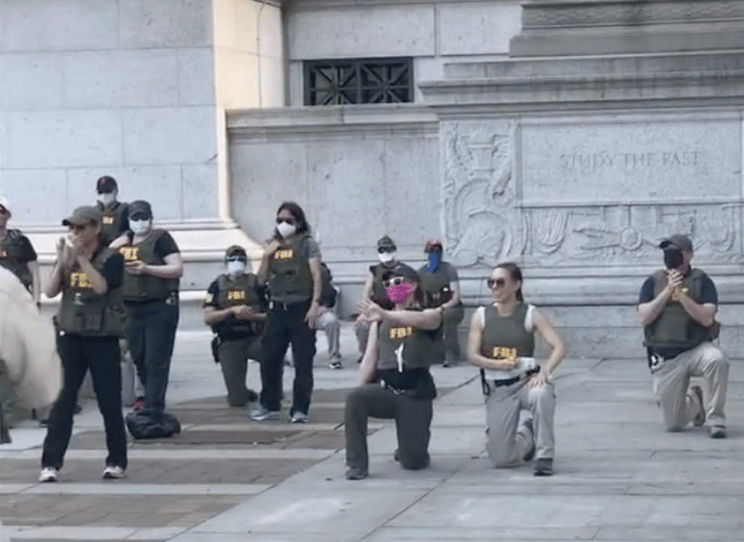 The FBI raided the home of the President of the United States. The same President whom the FBI attempted to prevent from winning the 2016 Election and then attempted to remove from office his entire Presidency. FBI leaders from the corrupt Obama/Biden Administration hired a Russian and used his made-up information as the basis to attempt to remove President Trump from office.
The same FBI who is creating a false narrative by reclassifying Jan. 6 cases as separate instances of "domestic terrorism", in order to create the illusion of a national rise in domestic violent extremism.
The same FBI who falsely designated a veteran-led disaster organization as a domestic terrorist group.
The same FBI who raided MyPillow CEO and Trump ally, Mike Lindell, outside of a Hardee's restaurant in Minnesota and stole his cell phone.
The same FBI who raided the home of Mark Houck, a well-known author, sidewalk counselor, and father of seven, at gunpoint and dragged him off to jail while his wife and children watched in horror.
Yesterday, Breaking Digest reported that more than a dozen FBI whistleblowers have gone to Rep. Jordan with allegations of misconduct and abuse within the bureau under Christopher Wray's leadership.
Rep. Jordan says he received information about the FBI engaging in a purge of conservative employees and of retaliation against at least one whistleblower.
Now, insiders at the FBI told The Washington Times that the agency is becoming more political by putting liberal agents in charge through promotions and punishing or firing agents who support conservative causes.
More from the Washington Times:
They said this institutionalizes a liberal bias in the upper ranks of the nation's premier law enforcement agency.

In one high-profile example, an FBI agent on duty demonstrated solidarity with Black Lives Matter marchers in Washington by "taking a knee" as the protesters passed. The agent was rewarded with a promotion to a supervisor rank.

The BLM march in Washington in 2020 was part of protests and riots that swept the country in response to the police killing of George Floyd in Minneapolis. Some law enforcement officers began kneeling with BLM protesters in Austin, Texas; Portland, Oregon; Los Angeles; Coral Gables, Florida; Buffalo, New York; and elsewhere.

Among six on-duty agents in full FBI gear who "took a knee" for BLM protesters in Washington was a female agent who later was promoted to the No. 2 supervisory post at the Washington field office.
In the summer of 2020, after the death of George Floyd, BLM protesters sparked riots across the country. In a show of support for the BLM rioters, some law enforcement officers, including FBI agents, cowardly took a knee.
Wired Powers reported:
FBI whistleblower Kyle Seraphine has been suspended from work at the agency, and all employees gathered in the Deputy Director's conference room to discuss "presence patrols" following the BLM protest. He said he witnessed Mr. Knapp showering his agents with praise.

Each agent in a group of "kneeling agents" was hugged by Ms. Knapp and received a gift card from her for his actions at the protest, Mr. Serafin said to him.

"So she centered her rhetoric about 'they were heroes… they saved lives and did the right thing.' [Director Christopher A. Wray] They didn't escalate things to say how proud I am. I don't want anyone to look sideways at me," Seraphine recalls her words.

Another former FBI official, who spoke on condition of anonymity, also recalled an incident in the conference room.
"Some people were like, 'What they did is pretty disgraceful. You shouldn't stand for one side or the other,'" the former official said.

Seraphine said participating in a BLM protest should be considered a violation of the Hatch Act policy, a law that prohibits federal employees from engaging in political activity while on duty, on federal property, or while using government resources. said it is.

"A lot of the other agents on the scene got down on their knees and said, 'Look, we didn't feel threatened,'" he said.