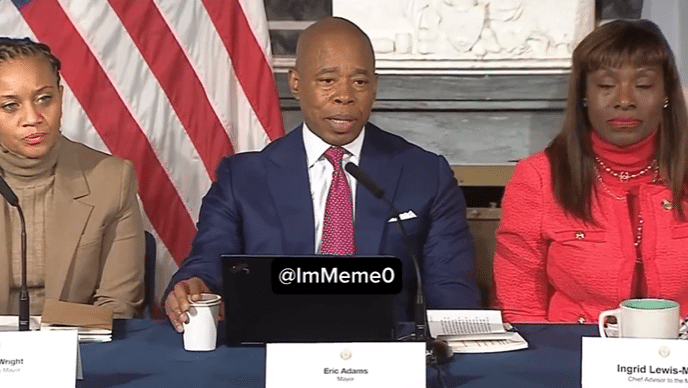 New York City Mayor Eric Adams has called on parents to step in for school security after school security guards were cut, sparking understandable outrage among parents. They rightly argue that they lack the necessary training for this responsibility, and also, it's a challenge to find the time.
This situation is a direct result of the massive spending by the city in order to accommodate illegal border crossers. Adams had previously cautioned about potential service reductions, and now, that prediction has become a reality.
Watch:
NYC mayor, Eric Adams says that will be seeking for parents and parents groups to volunteer to make sure our kids' schools will stay safe since money for safety officers were relocated for catering to illegals.

You hear this right New Yorkers, besides your tax dollars pay for… pic.twitter.com/ZKzrpWGil9

— I Meme Therefore I Am 🇺🇸 (@ImMeme0) November 14, 2023
From the New York Post:
Mayor Eric Adams said Tuesday that parents might have to volunteer to keep Big Apple schools safe after hundreds of newly trained safety agents were cut — but the idea was quickly ripped by some parents who raged, "It's not my job."

"We're going to be leaning into parents and parent groups to do some volunteerism," Hizzoner said when asked about the new class of 250 school safety agents that were recently axed as the cost of the migrant crisis continues to cripple the city.

"We're going to get to our crisis management team," he continued during a weekly City Hall press conference. "We are going to be straining at a very high level to get this done correctly."

But parents quickly scoffed at the idea, with several telling The Post they shouldn't have to take on the responsibility of protecting their kids at school.

"It's not my job or any parent's job to have to patrol the school, that's not why I'm sending my child to a school," Sarah Lewis, 42, said as she waited for her sixth grade daughter at the Great Oaks Charter School in West Village.
The Mayor has money to have the NYPD at countless migrant shelters, yet conveniently claims a lack of resources when it comes to safeguarding kids at schools. Are you kidding me? https://t.co/8Pi13BwIcU

— George Sarantopoulos (@GSarantopoulos) November 14, 2023
New York imposes some of the nation's highest taxes on its citizens, yet people aren't receiving even the most fundamental services.