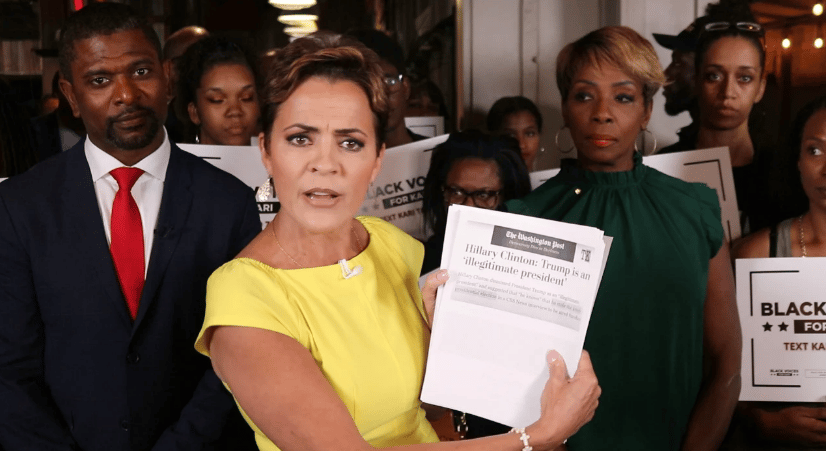 On Monday, Arizona officially certified the rigged 2022 election.
Democrat Katie Hobbs, who oversaw her own election as Secretary of State, was declared the winner.
Katie Hobbs refused to debate, did not campaign, and had almost no following. No reasonable person would believe that she actually won this race against Kari Lake, one of the most popular Republican candidates in a generation.
Kari Lake tweeted the following video on November 21 when Maricopa County was STILL counting the ballots from the 2022 midterm election that took place on November 8:
Watch the video below:
Hi, this is Kari Lake and I have a message to the people of Arizona and all Americans. 40 days ago elections in Arizona officially started when mail in ballots were sent out across our state.

Election Day was 13 days ago, and Maricopa County is still counting ballots. Printer problems, tabulation errors, three-hour long lines and even longer, and confusing instructions given by election officials made this election day the most chaotic in Arizona's history. Half of voting centers that opened for the first time on election day where the the overwhelming majority of voters were voting for Kari Lake, were not operational or had significant failures.

Would you get on an airplane if half of the engines didn't work? Would our friends in the media be able to broadcast their nightly propaganda if only half of their studio equipment was working? The 2022 general election in Arizona was botched and broken beyond repair. Thankfully, the Attorney General's Office is demanding answers from Maricopa County. Attorney General Mark Brnovich is taking the first steps necessary to remedy this assault on our democracy.

This isn't about Republicans or Democrats. This is about our sacred right to vote, a right that many voters were sadly deprived of on November 8. Tens of thousands of you have reached out pleading with me to fight this fight. Rest assured, I will because if we give up now we will no longer have a country. Attorneys are working diligently to gather information, whistleblowers are coming forward, and the curtain is being lifted. Whether done accidentally or intentionally. It is clear that this election was a debacle that destroyed any trust in our elections. Arizonans who choose to make their voice heard on election day should not be disenfranchised or punished for choosing to vote in person. Yet they were. I want you to know Arizona, I will continue fighting until we restore confidence and faith in our elections.
@TrendingLiberal, a leftist page with 233.5k followers, replied to Kari Lake's tweet by posting a Twitter poll asking, "should Kari Lake Concede?" and they got a rude awakening when over 100,000 accounts responded with 76.6% voting "no".
Trending Liberal's Twitter bio states: "Campaign strategists working to stop the MAGA insanity. Join our call to make America trend liberal!"
Lake responded to the poll with a retweet, saying:
When Leftist polls go wrong.

Is "Hell No!" an option??
Lake intends to challenge the election results, recently vowing that she "will not quit" and stated that she is "working with a team of patriotic, talented lawyers on a legal case to challenge the botched elections."
Lawsuits are expected to move forward now that the election has been certified.
Other candidates, including Abe Hamadeh, are also expected to challenge the fraudulent election after the State certifies today.