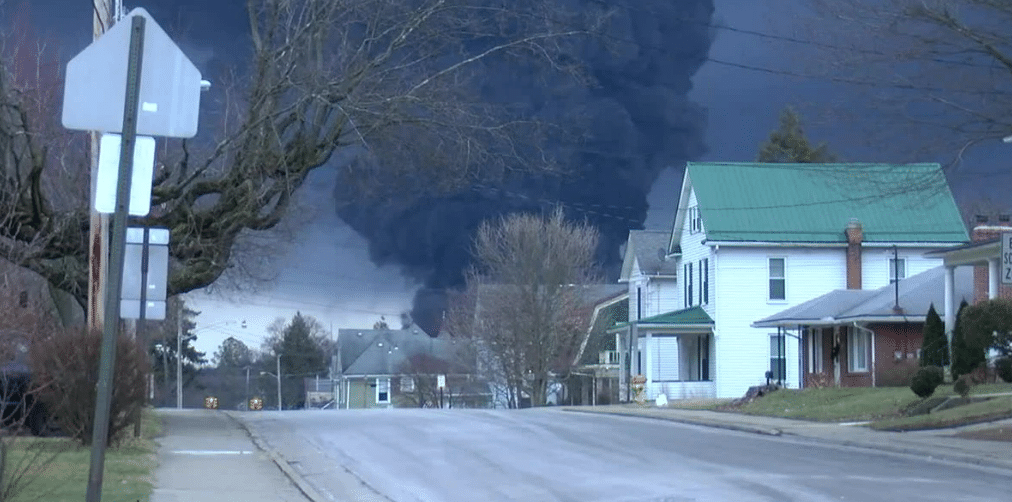 As reported by multiple outlets, on February 3, 2023, a Norfolk Southern freight train carrying known carcinogenic chemicals derailed in East Palestine, Ohio.
A controlled burn sent plumes of dangerous gas into the atmosphere. There have been several chemicals identified but the main chemical causing concern is vinyl chloride, which is used to manufacture PVC. Exposure to vinyl chloride is known to cause certain cancers, according to Cancer.gov:
Vinyl chloride exposure is associated with an increased risk of a rare form of liver cancer (hepatic angiosarcoma), as well as primary liver cancer (hepatocellular carcinoma), brain and lung cancers, lymphoma, and leukemia.
Fish and other aquatic wildlife are turning up dead in local creeks and rivers, while residents are being told that it is safe to return home.
East Palestine officials will hold a town hall meeting tonight at a local high school to discuss the recent train derailment and the toxic controlled burn and the potential resulting health hazards.
They are expecting a huge turnout and changed the rules to run the meeting.
Rep. Bill Johnson (R-OH) invited Biden's Secretary of Transportation, Pete Buttigieg, to attend the town hall tonight.