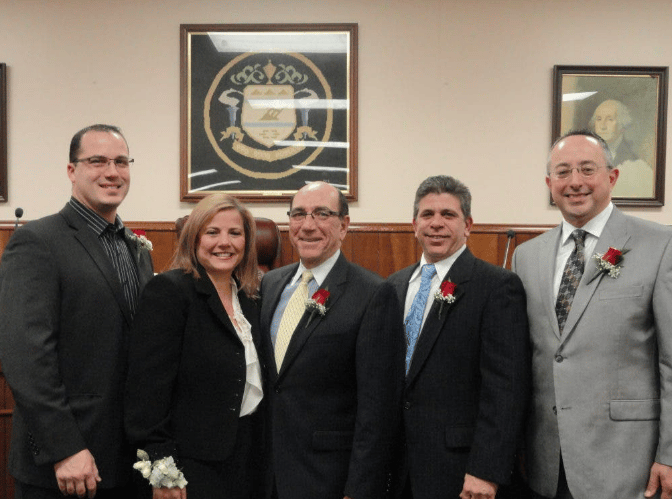 The East Hanover, New Jersey mayor, and the entire township council switched from Democrat to Republican.
East Hanover Township has a population of 11,105 and four members on its township council.
Mayor Joseph Pannullo, Council President Frank DeMaio, Jr, Councilwoman Carolyn Jandoli, Councilman Brian Brokaw, Sr., and Michael Martorelli all switched from Democrat to Republican.
"Municipal leaders have a responsibility to best represent their constituents, and it is our belief this change of party is in the best interest of the community," said Pannullo.
"As the nastiness, rhetoric, and social media vitriol of national politics continues to infiltrate local governance, we collectively determined this was the best course of action to keep the focus on local issues impacting our community – combating the overburdening and unrealistic fair-share housing mandates, keeping taxes stable, enhancing our parks and investing in public safety needs to be our local priorities. Every decision my administration makes is about putting East Hanover first; this is no different," he added.
New Jersey Globe reported:
Morris County GOP Chair Laura Marie Ali credited Hanover Mayor Ace Gallagher for convincing the East Hanover officials to switch parties.

"The entire Republican Party in Morris County is welcoming Mayor Pannullo and East Hanover's four Council members to our family with open arms and great excitement," Ali said.  "East Hanover is an exceptionally run town with great leadership.  It is clear we share the same values as Mayor Pannullo and his Council and we are so excited to have them be part of our Republican family."

The East Hanover Republican [muncipal] chair, former Councilwoman Sue Tietjen, also welcomed the new Republican [officholders].

"We will work together moving East Hanover forward," she said.

Assistant Senate Minority Leader Joseph Pennacchio (R-Montville), whose new legislative district will include East Hanover, saluted Ali for her role in the five-seat flip and said he is looking forward to working with Team Pannullo.

"Whether you are a lifelong Republican or a transplanted Democrat such as me, you are immediately welcomed and accepted without hesitation," said Pennacchio.  "I look forward to working with my new Republican friends to make East Hanover an even better place to live."

Senate Minority Whip Anthony M. Bucco (R-Boonton), who has the votes to lead the Senate GOP caucus next year, called the switch of Pannullo and the councilmembers "a major win for the Republican Party and shows how out of touch and extreme the Democrat party has become."