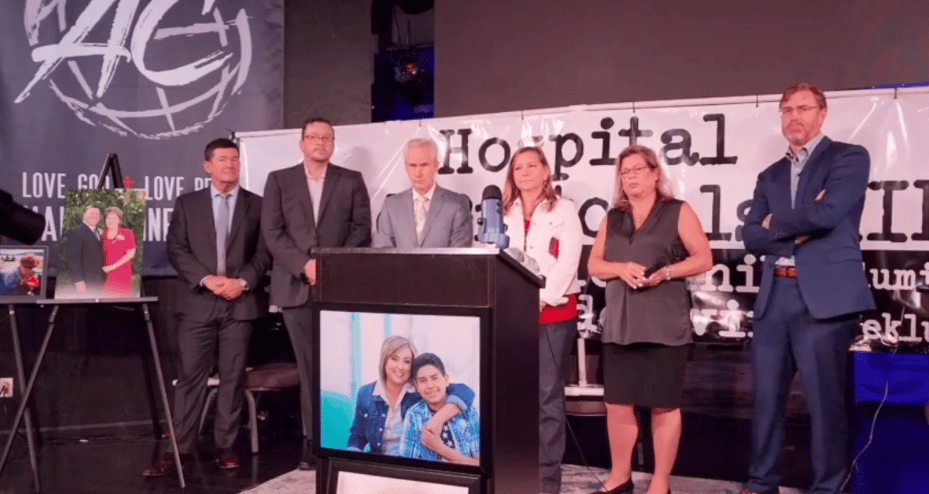 Lawsuits have been filed against three California health care providers on grounds they used failed Remdesivir on patients without obtaining informed consent, resulting in the wrongful deaths of several patients, as claimed by two attorneys.
According to the news release, "Watkins and Michael Hamilton announced in a national Press Conference on September 7 the filing of their first-in-the-nation landmark lawsuit against three hospitals on behalf of families who had lost their loved ones with the "bounties" paid to hospitals for using the toxic combination of food and fluid restriction, remdesivir, mechanical ventilation, high dose morphine-midazolam respiration-suppressing cocktail to spiral patients down the dark road to death."
They were joined by medical experts such as Dr. Peter McCullough, Dr. Bryan Ardis, Dr. Angie Farella, and Dr. Janci Linsay, all of whom have voiced their opposition to the use of remdesivir, according to Epoch Times.
Attorneys Daniel Watkins of Watkins & Letofsky and Michael Hamilton of Hamilton & Associates filed lawsuits in the Superior Court of California in Fresno County against Saint Agnes Medical Center, Community Regional Medical Center, and Clovis Medical Center.
The hospital's administration, physicians, and nurses are being sued for wrongful death, medical battery, elder abuse, and other violations of patients' rights.
According to Watkins, the lawsuit is based on two basic concepts, medical deception and unconsented medical care.
Watch:
Truth for Health Foundation has pledged financial support for this lawsuit as one of our human rights defense efforts to serve the public good by helping protect public safety, defend patient rights, and defend life. Both Attorney Watkins and Attorney Hamilton have been engaged by Truth for Health Foundation to assist on several legal initiatives to help defend human and civil rights secured by law. Donations to support our legal defense efforts may be made here: https://secure.anedot.com/truth-for-health-foundation/donate"