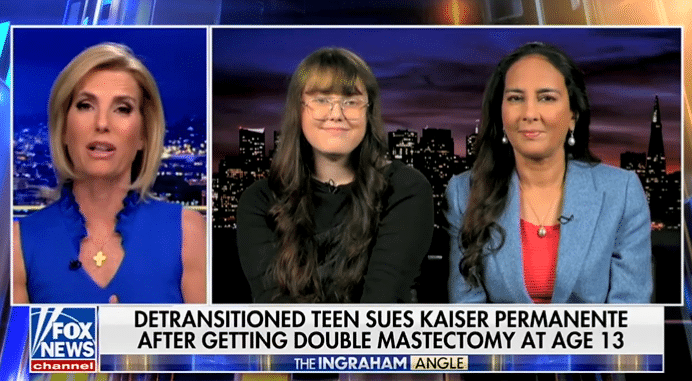 An 18-year-old California woman, referred to as Layla Jane, is suing doctors who performed a double mastectomy on her at just 13 years old as part of a gender reassignment process that she now regrets.
"I don't think I should have been allowed to change my sex before I could legally consent to have sex," Layla gold Laura Ingraham.
"I don't think I'm better off for the experience, and I think transition just completely added fuel to the fire that was my pre-existing conditions."
Her lawyer, Harmeet Dhillon, a conservative activist and CEO of the Center for American Liberty, said Kaiser has emerged as a "repeat player in the growing field of permanently mutilating children for profit."
Watch:
The Daily Mail reported:
According to legal papers, Layla experienced moodiness, anxiety, gender confusion and anger issues as a child. At age 11 learned about radical transgender ideology and went online to learn more about the new trend.

She self-diagnosed that she was a boy and believed transitioning would solve her mental health problems.

According to the suit, doctors at the Permanente Medical Group and Kaiser Foundation Hospitals rushed her on to cross-sex hormones and a double mastectomy without properly assessing her mental health problems.

Her evaluations lasted only 30 minutes and 75 minutes, records show.

Legal papers identify the carers as Susanne Watson, a psychiatrist in Oakland, San Francisco-based plastic surgeon Winnie Tong, and Lisa Taylor, a pediatric endocrinologist in Oakland.

They are accused of 'intentional, malicious, and oppressive concealment of important information and false representations' that saw Layla pushed into the procedures.

It's claimed they presented Layla Jane and her parents with a terrifying choice: 'Would you rather have a live son, or a dead daughter?' — language that echoes complaints from other detransitioners across the US.

'These are decisions I will have to live with for the rest of my life,' Layla said in a statement.

'I'm ready to join the growing group of detransitioners so that no other child has to go through the torment I went through at the hands of doctors I should have been able to trust.'
She is one of a growing number of people who come to regret their gender reassignment procedures and sue the doctors they accuse of pushing them into irreversible treatments instead of counseling.
Breaking Digest reported that 18-year-old Chloe Cole, also represented by Dhillon, filed a lawsuit against Kaiser Permanente in February for providing her with inappropriate gender hormone therapies and surgical procedures.