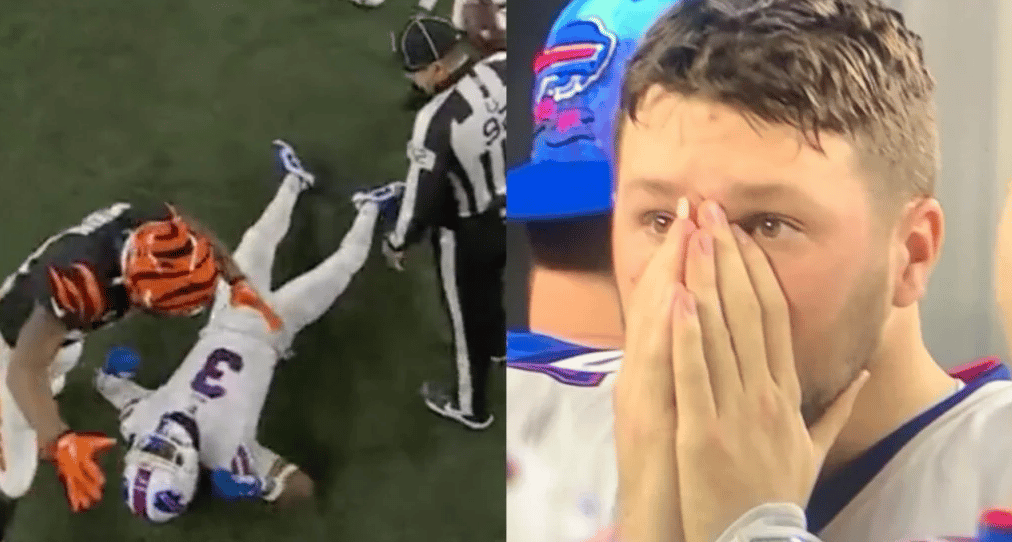 Buffalo Bills player Damar Hamlin collapsed on the field after making a tackle and was taken off of the field.
Medics worked on Damar for over 10 minutes.
FOX News reported that Damar has a pulse but is not breathing on his own.
More from FOX News:
A highly anticipated matchup between the Bills and Bengals was temporarily suspended Monday night after Buffalo defensive back Damar Hamlin collapsed on the field.

The scary play occurred with about 5:58 remaining in the first quarter with Cincinnati leading the game 7-3. The Bengals were on their second drive of the game when Joe Burrow through a pass to Tee Higgins. Bills safety Damar Hamlin came over to make a tackle to end the play.

Hamlin got up from the ground and took a few steps backward before he collapses onto the field at Paycor Stadium. Medical personnel came over to Hamlin to attend to him as the ESPN broadcast went to commercial. A stretcher and backboard came out and later the ambulance.

Hamlin was on the ground for a while and multiple reporters indicated he was receiving CPR from the medical staff on the ground before he was put into the ambulance. According to FOX19, Hamlin was being transported to the University of Cincinnati Medical Center.
ESPN reported:
CINCINNATI — Bills safety Damar Hamlin was taken off the field in an ambulance after receiving treatment for over 10 minutes, which resulted in the game between Buffalo and the Cincinnati Bengals being suspended until further notice Monday night.

CPR was administered to Hamlin on the field for multiple minutes after he collapsed on the field following a play in the first quarter. He appeared to be receiving oxygen as he was placed in the ambulance and taken off the field.

The injury took place after Hamlin tackled wide receiver Tee Higgins and quickly got up afterward. He then abruptly collapsed with athletic trainers coming to help immediately. A stretcher was immediately brought to the field as athletic trainers protected his head.

The entire Bills sideline surrounded Hamlin as he received care. Multiple Bills players were visibly distressed and comforting each other as he was cared to. Many had to turn their backs to not watch Hamlin in distress.

The first attempt to move Hamlin resulted in him being brought back down onto the field, but he was ultimately placed into an ambulance.

Bills coach Sean McDermott and Bengals counterpart Zac Taylor then met on the field and spoke briefly, before officials announced that the game would be temporarily suspended. Players from both teams then left the field.
The football world offered their prayers for Hamlin.
Video via ESPN: