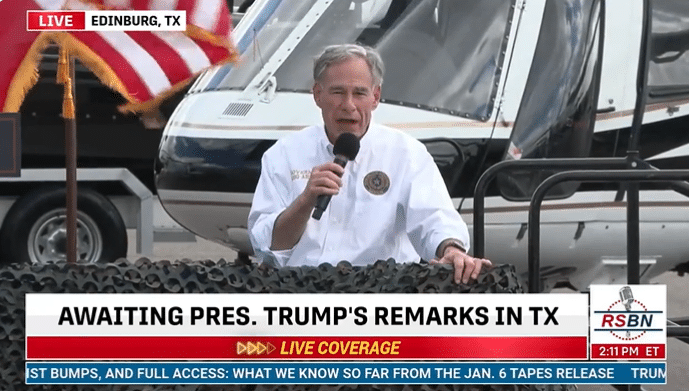 On Sunday, Texas governor Greg Abbott gave his official endorsement to President Trump for the 2024 presidential election, emphasizing the crucial need for a leader committed to securing the border.
President Trump recently visited Texas National Guardsmen and law enforcement officials stationed in the Rio Grande Valley, an area where illegal immigrants are flooding into our country. During this visit, alongside prominent state Republicans and Governor Abbott, Trump took part in serving Thanksgiving meals to those dedicated individuals who are protecting our borders against illegal immigration, drug trafficking, and other threats.
The U.S.-Mexico border is now under the operational control of illegal immigrants, cartels, human smugglers, and terrorists under Joe Biden.
In September, reports detailed the surge of illegal aliens entering Eagle Pass, Texas. Border Patrol agents cut concertina wire installed by Texas in order to help illegals cross into the US.
Governor Greg Abbott:
We need a president who's going to secure the border. We need a president who's going to restore law and order in the United States of America, not letting these criminals run ransack over the stores that you see images of almost nightly.

We need a president who's going to restore world peace, as opposed to this outbreak of warfare under Joe Biden. We need Donald J. Trump back as our president of the United States of America. I'm here today to officially proclaim my endorsement for Donald J. Trump to be president of the United States of America again.

So join me in giving a Texas sized Welcome to President Donald J. Trump, the former and future President of the United States of America.
Watch:
BREAKING: Texas Governor Greg Abbott endorses Donald Trump for President in 2024.

pic.twitter.com/5hRVO1kaC2

— ALX 🇺🇸 (@alx) November 19, 2023
Abbott has repeatedly clashed with the Biden administration over the crisis at the Southern border. Since Biden took office in January 2021, over 6.5 million encounters with illegal immigrants have occurred at the southern border.
The Lone Star state has seen millions of illegal aliens entering the country. In reaction, Abbott has mobilized the Texas National Guard and directed law enforcement to build barriers, both on land and in water, along the border with Mexico.
In response, the Biden Administration is suing Texas, asserting that only the federal government holds authority over international borders.
President Trump said he was honored to receive Abbott's endorsement and pledged to secure the border if re-elected. "This meant a lot to me," Trump said. "You're not going to have to worry about the border anymore, governor… you're not going to have to worry about the border in Texas or Arizona or anywhere else."