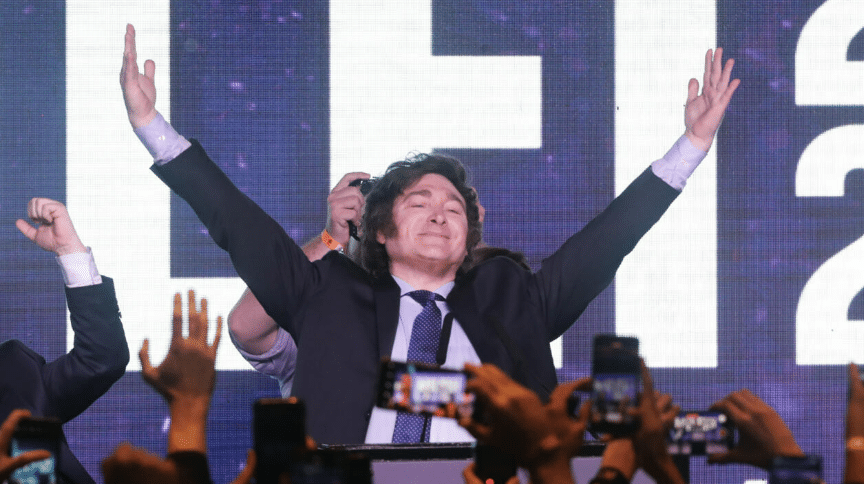 Argentinians are celebrating as conservative populist Javier Milei, dubbed Argentina's Donald Trump, is elected as the country's new President.
Milei vows to slash government spending and revitalize the nation's faltering economy.
The mainstream media is unhappy with the outcome of the election, branding Milei as "crazy" and aligned with the "far-right."
BREAKING: STREETS ARE GOING WILD AS JAVIER MILEI ELECTED PRESIDENT https://t.co/hOuAJxEj4I

— Jack Poso 🇺🇸 (@JackPosobiec) November 19, 2023
This energy ⚡️

pic.twitter.com/QvonjjQ87R

— Benny Johnson (@bennyjohnson) November 19, 2023
After finishing in second place behind Finance Minister Sergio Massa, Milei gained backing from former President Mauricio Macri and his candidate Patricia Bullrich, who secured third place in the initial October round. Subsequently, Milei surged in the polls.
Even before the final election results in Argentina, Sergio Massa conceded defeat and extended congratulations to his opponent, Javier Milei.
With 87% of the votes tallied post-Sunday's election, Milei secured 56% of the votes compared to Massa's 44%, representing the incumbent left-wing Peronist coalition, according to the official electoral authority.
From CNN:
Provisional results so far show Milei with over 55% of votes (13,781,154) with more than 94% of votes counted, according to data from the country's National Electoral Chamber, which has not yet declared an official winner.

Milei's victory marks an extraordinary rise for the former TV pundit, who entered the race as a political outsider on a promise to "break up with the status quo" – exemplified by Sergio Massa.

His campaign promise to dollarize Argentina, if enacted, is expected to thrust the country into new territory: no country of Argentina's size has previously turned over the reins of its own monetary policy to Washington decisionmakers.

Milei has also said he would slash government spending by closing Argentina's ministries of culture, education, and diversity, and by eliminating public subsidies. He is a social conservative with ties to the American right; he opposes abortion rights and has called climate change a "lie of socialism."