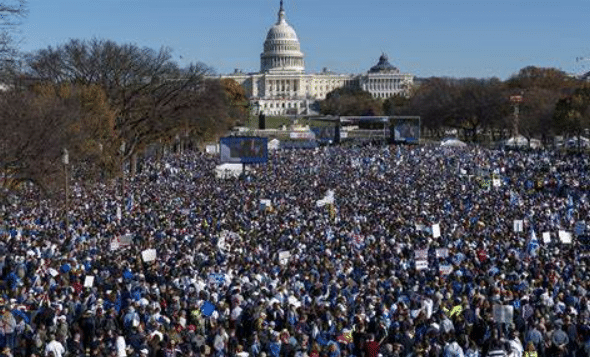 On Tuesday there was a massive rally for Israel in Washington DC, drawing hundreds of thousands of American Jews and their allies.
Lawmakers from both the Democrat and Republican parties attended the rally.
900 attendees from the Detroit area found themselves stranded at Dulles as Jew-hating bus drivers declined to transport them to the rally.
Jew hating bus drivers at Dulles left 900 Jews stranded at Dulles Airport, refusing to transport them from their planes to the terminal.
This is HUGE!https://t.co/87hNzhWBhB

— Caroline Glick (@CarolineGlick) November 14, 2023
#BREAKING: hundreds of Jewish Detroiters were prevented from attending today's pro-Israel rally in DC when bus drivers staged a deliberate and malicious walkout.
Nearly 1,000 people flew from Detroit to DC on chartered flights and buses were hired to take them from Dulles Airport… pic.twitter.com/j3BVg0UrGw

— Israel War Room (@IsraelWarRoom) November 15, 2023
The Biden administration declined to participate in the march and rally.
Serious question: Why wasn't Joe Biden at the #MarchForIsrael?

If not Joe, Kamala? Or Blinken? Or how about Mayor Pete?

Why was there no representative from the Biden Administration speaking at the march? pic.twitter.com/kUT0xi5P9E

— L A R R Y (@LarryOConnor) November 14, 2023
On the same day of the March, every Senate Democrat voted to stop aid to Israel.
On the day of the March for Israel, Senate Democrats decided to stab Israel in the back, to degrade the country currently trying to free American hostages as well as their own.

A 3-year-old American is being held in Gaza and Israel is the one country trying to save that child.… https://t.co/AHD8E2Cg5z

— Marina Medvin 🇺🇸 (@MarinaMedvin) November 15, 2023
In contrast to the pro-Palestinian activists, the attendees at the rally for Israel sang the National Anthem. The event was peaceful and patriotic.
Watch:
At the #MarchForIsrael! ❤️👏🇮🇱🇺🇸

Show me a pro-Palestinian rally where they do this. pic.twitter.com/3wvmiPg0Tj

— Charles Weber (@CWBOCA) November 14, 2023
Despicable leftists shouted "Heil Hitler" at the crowd.
Watch:
Anti-Israel protester shouts "Heil Hitler" and performs a Nazi salute at today's March for Israel pic.twitter.com/nCGLeZ6qYa

— Oversight Project (@OversightPR) November 14, 2023
Disgusting!
From Newsweek:
Hundreds of people were left stranded on the tarmac in Washington, D.C., after bus drivers refused to take them to the March for Israel on Tuesday, according to a rabbi.

The March for Israel brought over 100,000 people to the nation's capital in a show of solidarity for Israel and to call attention to the hostages that are still being held by Hamas. While the event was peaceful and garnered support from legislators of both major political parties, several rabbis said getting to the rally was a harrowing journey after their buses never showed up.

David Kurzman, senior director of community affairs at the Jewish Federation of Detroit, told reporters on a call that it was a "historic day" for the Jewish community that was marred by the experience with the bus drivers.

Kurzman wouldn't say which bus company was involved or who was responsible for coordinating the transportation. But he said he was informed people called in sick when they became aware of the assignment.

"In the way that this action prevented community members, proud Jewish Americans, from exercising their freedom to speak, protest, assemble, gather today at the nation's capital, that to me was a malicious act," Kurzman said.

Kurzman stopped short of calling it an "act of antisemitism," but said it was an act targeting the Jewish community.