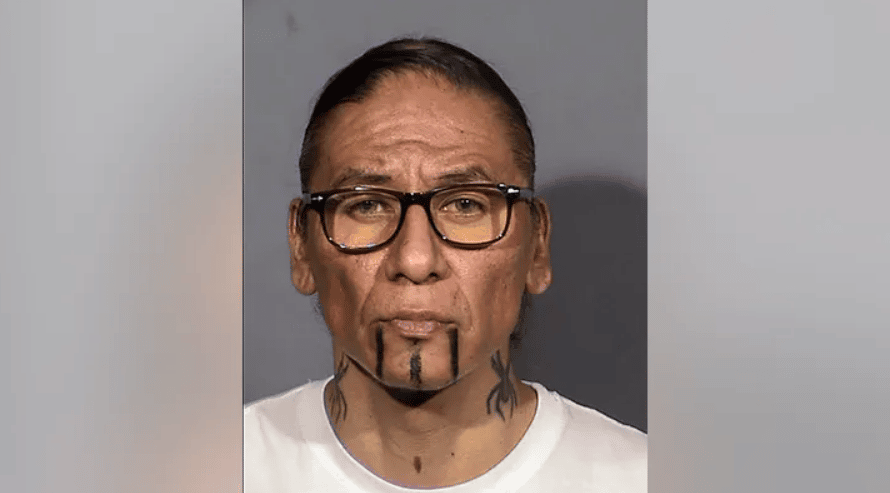 Another celebrity has been arrested on charges of child sexual abuse and sex trafficking.
Nathan Chasing Horse, who played "Smiles a Lot" in the Academy Award winning movie Dances with Wolves, was arrested at his home in North Las Vegas earlier this week.
Accused of multiple sex crimes, Nathan Chasing Horse, 46, was taken into custody at his Las Vegas residence on Tuesday. Formal charges have not been filed yet, but the actor is facing one count of sexual assault of a child younger than 16, one count of child abuse or neglect, one count of sexual assault and two counts of sex trafficking.
Nathan Chasing Horse is accused of running a sex cult known as "The Circle."
Records obtained by the AP said Chasing Horse trained all five of his wives, whom he lived with in the Las Vegas residence, to use firearms and told them to "shoot it out" with police officers if they ever tried to "break their family apart", and instructed them to take "suicide pills" if that plan failed.
The New York Post reported:
The sexual abuse accusations against the accused cult leader date back to the early 2000s and span multiple states, including Montana, his home state of South Dakota, and Nevada — where he has lived for the past 10 years.

Chasing Horse — a member of the Sicangu Sioux tribe of the Lakota nation — attracted followers across tribes in the US and Canada who believed he was a "Medicine Man" and "Holy Person" who could communicate with higher beings and perform healing ceremonies, according to the warrant.

"Nathan Chasing Horse used spiritual traditions and their belief system as a tool to sexually assault young girls on numerous occasions," the document states.

Followers of The Circle cult offered their young daughters to Chasing Horse to take as wives. One girl was allegedly offered as a "gift" to him when she was 15 years old and another married him when she turned 16.
AP News provided information obtained from the search warrant:
His arrest is the culmination of a monthslong investigation that began after police received a tip in October 2022. According to a 50-page search warrant obtained by AP, Chasing Horse is believed to be the leader of a cult known as The Circle.

According to the document, Las Vegas police have identified at least six alleged victims and uncovered sexual allegations against Chasing Horse dating to the early 2000s in multiple states, including Montana, South Dakota and Nevada, where he has lived for about a decade.

Although the warrant includes details of crimes reported elsewhere, the arrest stems from crimes allegedly committed in Nevada's Clark County. They include sex trafficking, sexual assault of a child younger than 16 and child abuse.

Chasing Horse also is accused of recording sexual assaults and arranging sex with the victims for other men who allegedly paid him.
Kortnee Ward, a former member of the cult, shared her story with 8 News Now.
Kortnee Ward said she was part of "The Circle" at the home in North Las Vegas where Chasing Horse was arrested.

Ward said a member who later became her boyfriend took her in when she was homeless at 17 years old.

"I was told to you know basically treat him like a king," Ward said of Chasing Horse.

She belonged to the cult for about a year and had a child with another member.

"From day one I was abused verbally, mentally, and physically," she said.