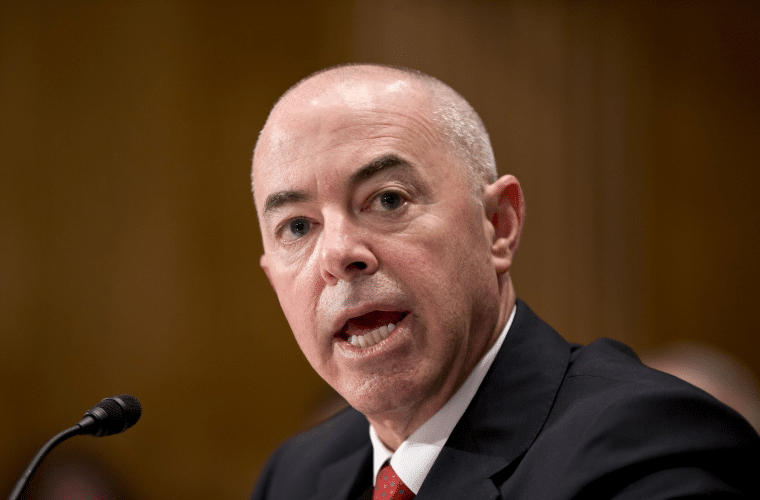 DHS Secretary Alejandro Mayorkas has shifted his stance, now saying there is an "acute and immediate need" for more border wall construction in Texas to address the never-ending stream of illegal border crossings.
This represents a 180 degree flip from the Biden administration's initial position, as Biden promised not to construct another foot of border wall when he took residence at the White House.
It's hard to know if this is genuine or if he is just playing politics.
Fox News reported:
DHS Secretary Alejandro Mayorkas is citing an "acute and immediate need" to waive dozens of federal laws in order to build a border wall in south Texas where illegal migration has surged, a sharp contrast to dismissals of the use of such barriers in the early days of the administration.

The agency posted an announcement on the U.S. Federal Register which outlines construction in Starr County in the Rio Grande Valley Sector — where the administration says there is "high illegal entry." The agency says there have been over 245,000 migrant encounters in the sector this fiscal year.

Mayorkas says he is using his authority provided by Congress to waive 26 federal laws, including the Clean Air Act, Safe Drinking Water Act and Endangered Species Act.

"There is presently an acute and immediate need to construct physical barriers and roads in the vicinity of the border of the United States in order to prevent unlawful entries into the United States in the project areas pursuant to sections 102(a) and 102(b) of [the Illegal Immigration Reform and Immigrant Responsibility Act of 1996]," Mayorkas said.
Is Alejandro Mayorkas a racist?
Mayorkas now says we need to immediately build a border wall…

But I was told by Biden and his administration that border walls were racist…

— Tim Young (@TimRunsHisMouth) October 5, 2023
Unbelievable. When Trump said this he was a "racist" but now the Biden administration is admitting what everyone knows.

Myorkas cites 'immediate need' to wave regulations, build border wall in Texas as immigration surges.https://t.co/Noit1CAYFY

— Carmine Sabia (@CarmineSabia) October 5, 2023
Watch Joe Biden say "There will not be another foot of wall constructed in my administration."
BIDEN (2020): "There will not be another foot of wall constructed in my administration!"

Today, Biden's DHS secretary declared an "immediate need" to build 20+ miles of border wall in Texas. pic.twitter.com/QvB1aC30C1

— RNC Research (@RNCResearch) October 4, 2023