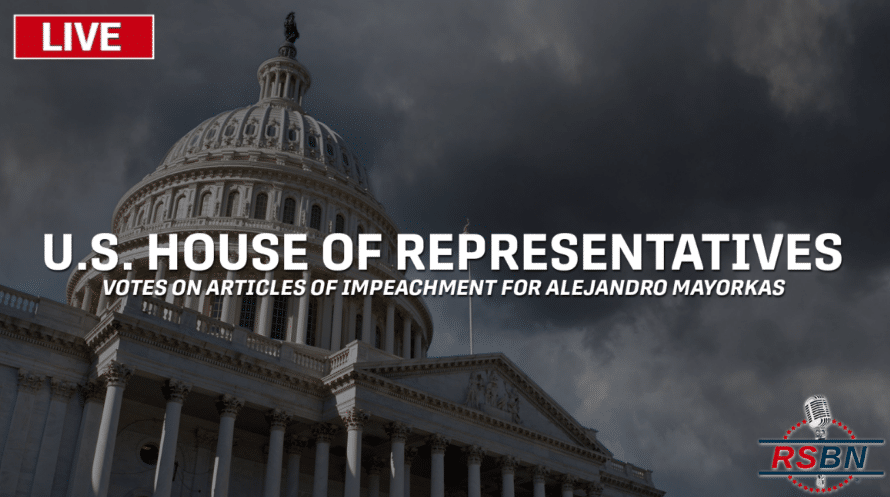 The House is scheduled to vote on Congresswoman Marjorie Taylor Greene's Articles of Impeachment against Secretary of Homeland Security Alejandro Mayorkas.
After the anticipated vote on the Democrats' Motion to Table, expected around 6:30 pm ET, the House will proceed to vote on Greene's resolution.
Tonight on the House floor, the Democrats will motion to table (kill) my resolution to IMPEACH Mayorkas.

A vote with the Democrats is a vote AGAINST impeachment.

It's time for Mayorkas and the Biden administration to be held accountable for the invasion at our southern border.

— Rep. Marjorie Taylor Greene🇺🇸 (@RepMTG) November 13, 2023
Greene introduced the resolution in response to a tragic incident where two of her constituents lost their lives at the hands of human traffickers near the border. These fatalities, along with numerous others, underscore Biden and Mayorkas' failure to secure the border, leading to the infiltration of terrorists, human traffickers, drugs, and other illicit items into the United States.
BREAKING: I just filed privileged Articles of Impeachment on Secretary Mayorkas.

Yesterday, two Americans from my district in Dalton, GA were killed in a high-speed head-on collision at the hands of human traffickers smuggling illegal aliens into this country.

They had 5 kids… pic.twitter.com/JHbYYLpElp

— Rep. Marjorie Taylor Greene🇺🇸 (@RepMTG) November 9, 2023
The resolution seeking Mayorkas' impeachment references six pages of evidence highlighting the Secretary's failures in his role at the Department of Homeland Security.
Reuters reports,
The impeachment comes after months of threats from Republicans, who blame Biden's administration for rolling back harsh restrictions on accepting migrants and asylum seekers put in place under then-President Donald Trump, a Republican.

The Republican-controlled House appears likely to impeach Mayorkas, but he will almost definitely be found innocent after a trial in the Senate, which Democrats control by a slim margin.
Watch the vote live below via RSBN on Rumble:
The U.S. House of Representatives will vote on articles of impeachment filed against Department of Homeland Security Secretary Alejandro Mayorkas.

Watch LIVE on RSBN starting at 6:30 p.m. ET.