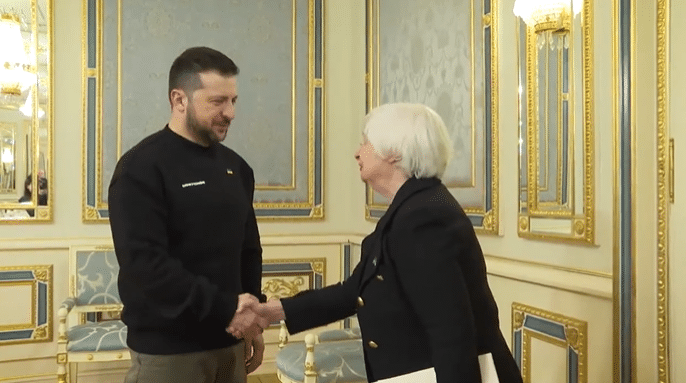 Treasury Secretary Janet Yellen made a 'surprise' visit to Kiev on Monday to reinforce the US's support for Ukraine.
Joe Biden went to Ukraine on American President's Day and gave the country $500 million of our taxpayer money.
Now, it is being reported that Janet Yellen has announced another $1.25 billion.
Yellen is also working to seize the $300 billion in Russian bank assets frozen by sanctions and transfer it to Ukraine to help rebuild the country.
This is completely unacceptable. THIS HAS TO STOP.
Reuters reported:
U.S. Treasury Secretary Janet Yellen swept into Kyiv on Monday on a surprise visit to reaffirm U.S. support for Ukraine in its struggle against Russia's invasion and promote U.S. economic aid that is bolstering Ukraine's war effort.

Yellen met with President Volodymyr Zelenskiy and other key government officials just days into the war's second year, repeating U.S. assurances delivered by President Joe Biden a week ago in Kyiv.

"America will stand with Ukraine as long as it takes," Yellen, flanked by sandbags at the cabinet ministers' office, told Ukrainian Prime Minister Denys Shmyhal.

Shmyhal, speaking through an interpreter, said the two discussed further U.S. sanctions on Russia aimed at weakening its economy and military and "confiscating frozen Russian assets and putting them to the benefit of the recovery of Ukraine."

But Yellen told reporters in a phone briefing that there were still significant legal obstacles to fully seizing the $300 billion in Russian central bank assets frozen by sanctions.

Yellen also announced the transfer of the first $1.25 billion from the latest, $9.9 billion tranche of economic and budget assistance from Washington.