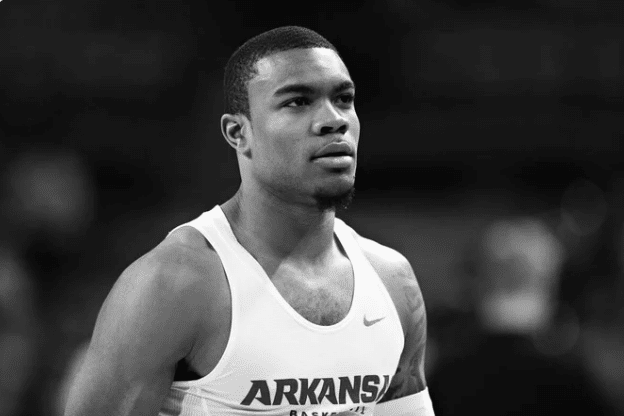 Reggie Chaney, a former college basketball player celebrated for his role in the Houston Cougars' journey to the Final Four in 2021 and his time with the Arkansas Razorbacks, sadly died unexpectedly at 23 years old on Monday.
The Houston Chronicle reported his passing, confirmed by a source close to the Cougars basketball team. The cause of his death is yet to be determined.
Chaney began his basketball journey with the Arkansas Razorbacks, where he gained recognition as an relentless player and a cherished teammate, thanks to his dedication and camaraderie under the guidance of head coach Eric Musselman.
After spending two seasons with the Razorbacks, he opted to transfer to the University of Houston and became part of the Houston Cougars' team.
University of Houston president Renu Khator issued a statement in response to Chaney's unexpected passing. In an X post, she expressed, "Cougar family mourns the loss of Reggie Chaney, the giant among giants of Houston basketball… the news has left us with sad and heavy hearts."
As word of Chaney's passing circulated, former teammates, coaches, and fans took to social media to reflect on their memories and honor his life and legacy.
The Razorback men's basketball family is devastated to hear of the loss of Reggie Chaney. He was a relentless worker and loved by his teammates. His family is in our thoughts and prayers.
 I promise this is surreal right now! My young big cousin/brother, you were suppose to be going Overseas within the next week or so. We just talked yesterday morning. Knowing that would be the last text Or call I'd ever receive from you is something I'm having a hard time believing.I love you Lil Reggie!!

Please pray for my Chaney family!!
I had the absolute pleasure to know Reggie Chaney the past 9 years and am so heartbroken. He is the most talented person I've ever met. He is so so silly and had one of my favorite laughs !! We immediately became great friends at the back of chemistry class in high school and continued to see each other flourish in college at the University of Arkansas.

I loved watching him succeed and push himself to become so so great. Nothing but amazing and funny times with my Reg. He is a legend. I miss him so much. Sending so much love and prayers to his family.
Two words that describe Reggie "Always Dependable". No matter the situation yk Reg gonna give his 110%. Glad I got the chance to lace em up with him, without Reg we don't accomplish half the things we did. Rest easy brother LOVE