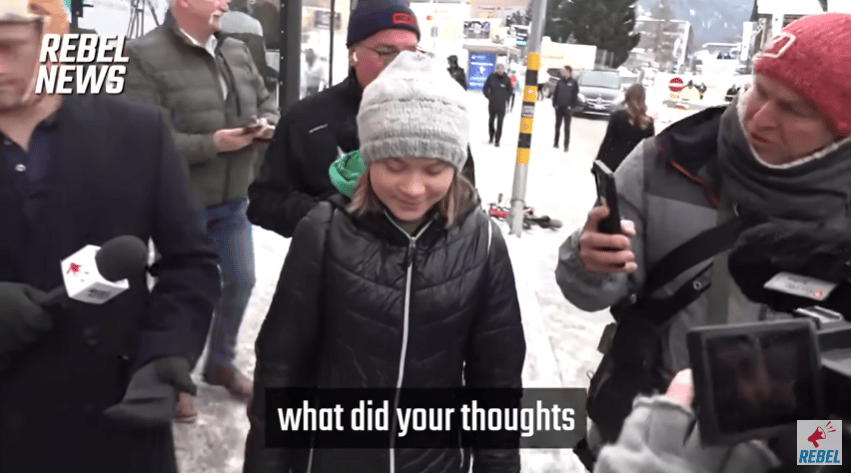 Rebel News confronted climate activist Greta Thunberg while reporting from the streets of Davos.
Thunberg traveled to nearby Switzerland after her fake arrest for protesting a coal mine in Germany.
While the mainstream media views Thunberg as an angel fighting to save the planet, Rebel News asked the questions she has likely never received.
"Why won't you condemn private jets? Have you ever been on a private jet even once?" Ezra Levant asked.
"I own 100 private jets," Thunberg responded.
"Have you ever been on a private jet?" Levant asked.
"All the time, yes," Thunberg said.
"Greta, how many times did you rehearse your arrest at the German coal mine? How many times did you rehearse it because it looked staged. Is it true?" Levant asked.
"Who was filming your arrest in Germany?" Levant questioned.
"Because it looked like you did that in several takes, didn't you."
"What would you like to do to make the world look completely different?" Callum Smiles asked.
"First, I would like to eat lunch maybe," Thunberg replied.
"Are you going to be eating bugs to save the planet for this lunch?" Smiles questioned.
"I'll see," she answered.
"It's getting quite cold in Davos, when can I expect some global warming?" Smiles asked.
"Would you say you're a child actor? Are you a child actor or an expert?" Levant questioned.
UK-based GB News also asked Thunberg questions on the snowy streets of Davos.
"Every time a Western government implements a net-zero policy it's common folk that are suffering, especially in a cost-of-living crisis. Do you have anything to say on that?" Calvin Robinson asked.
"It's horrible that people are being affected by different things like the climate crisis… people are being displaced and losing their lives. It's horrible," Thunberg replied.
"But they can't afford to eat or heat their homes because of the net-zero policies," Robinson said.
"Yeah, that's definitely why we are experiencing the cost-of-living crisis. Yes," Thunberg answered.
Watch the full Rebel News video report:
Thunberg protested "climate justice" while in Davos.
Watch:
Rebel News reported:
After being arrested in Germany earlier this week, the world's most well-known climate activist travelled to neighbouring Switzerland, just in time to catch the end of the World Economic Forum's annual summit.

Our team of seven Rebel News journalists has been on the ground in Davos, the exclusive Alpine resort town where the WEF holds its signature event, all week. We've been asking the questions that the legacy media would never dare — especially since many are paid members of the WEF itself.

Rebel Commander Ezra Levant, UK reporter Callum Smiles and Calvin Robinson, a commentator from Britain's GB News who is accompanying us this week, had the chance to grill Thunberg as she walked through the quaint streets of Davos.

While our team asked the majority of the questions during the impromptu scrum, a number of reporters from mainstream outlets were also there. You can see the contrast in difficulty of questions asked by our team compared to these outlets in the full, 18-minute long video.