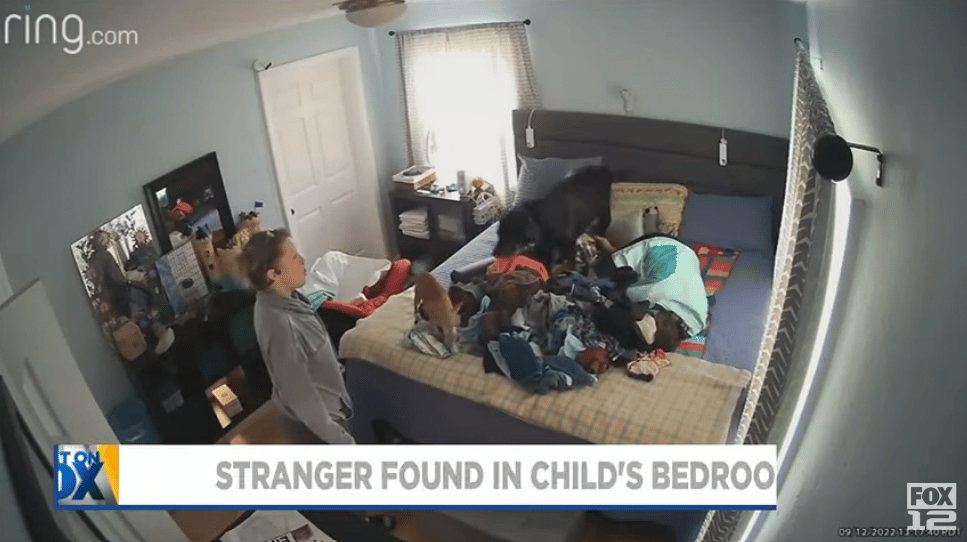 A Portland, Oregon mom got the shock of her life when her barking dogs alerted her to a homeless woman sleeping in her 10-year-old son's bed.
Fox 12 reported that the homeowner, Kelsey Smith, was in the backyard talking to a friend on the phone when she heard her dogs barking at something. She went to the front door because she was expecting contractors to come to do some work on her home. There was no one at the front door, but her dogs continued to bark and led her into her 10-year-old son's bedroom where she found the woman sleeping in his bed.
At first Smith thought it was her husband but quickly realized that it wasn't.
The homeless woman, who has been identified as 54-year-old Terry Lynn Zinzer, can be seen on surveillance video, waking up and jumping off of the bed before picking up an ottoman and throwing it at Smith on her way out the front door.
The children were not at home at the time of the incident.
Police say Zinzer was charged with burglary in the first degree and harassment. Smith was planning to press charges but when she called the DA's office, they told her the charges had been dropped. Zinzer was released.
Smith says more needs to be done to address the growing problems she sees in the city. "I don't know what the answers are, but I know that what they are doing right now is not working," Smith said.
Watch: