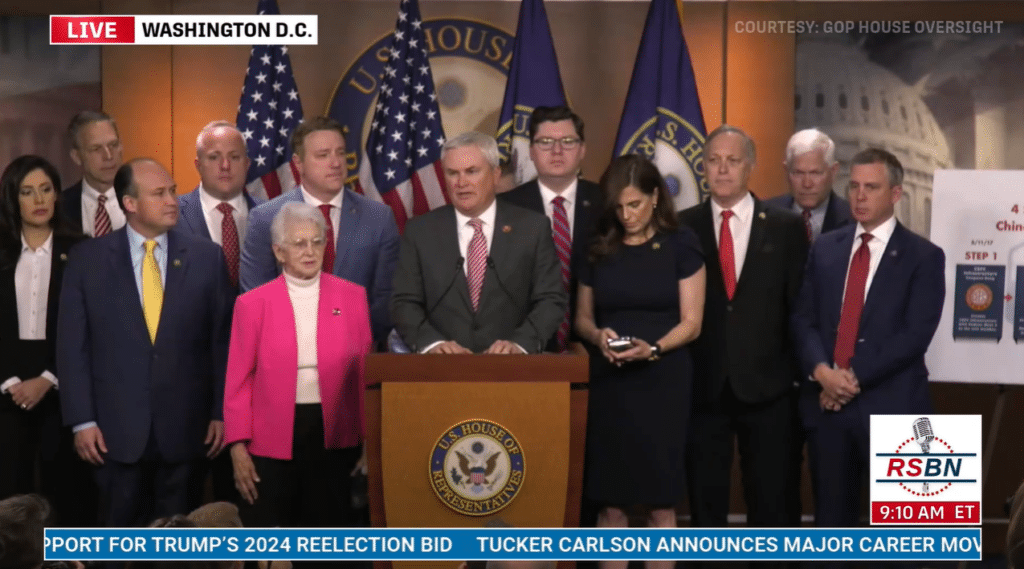 House Republicans revealed new bank records showing that the Biden Crime Family has been profiting from a corrupt foreign influence peddling scheme that dates back to Joe Biden's time as Vice President, under former president Barack Obama.
House Oversight Committee Chairman Rep. James Comer (R-KY) announced the shocking new findings in a press conference Wednesday morning.
Rep. Comer began by clarifying that the Oversight and Accountability Committee is investigating Joe Biden.
Rep. Comer then moved onto discussing new shocking information the committee has learned.
"First we want to discuss information the committee has learned since our last press conference in November… new information investigators have uncovered, regarding the transfer of money from foreign entities to the Biden family," Comer said. "Many of the wire payments occurred while Joe Biden was Vice President and leading the United States' efforts in these countries. First instance: while Vice President Biden was lecturing Romania on anti-corruption policies, in reality, he was a walking billboard for his son and family to collect money. Hunter Biden and his associates capitalized on a lucrative financial relationship with a Romanian national who was under investigation for, and later convicted of, corruption in Romania. The Biden's received over 1 million dollars for the deal and 16 of the 17 payments to their associate's account that funneled the Bidens' money occurred while Joe Biden was Vice President."
Watch:
"The committee has reviewed thousands of bank records from individuals and companies affiliated with the Bidens and their associates," Comer said. "It has received these bank records pursuant to four subpoenas I've issued to different banks. These were targeted and specific subpoenas and each was different based on the information we believed the banks possessed. Every one of those subpoenas returned valuable information that had been unreported and that contributed to this committee's understanding of how the Biden's conducted their businesses."
"The committee is concerned by the complicated suspicious network of over 20 companies," he continued. "We have identified the Bidens and their associates used to enrich themselves. Most of these companies were limited liability companies formed during Joe Biden's vice presidency."
"The bank records show the Biden family, their associates, and their companies received over 10 million dollars from foreign nationals and their companies," he went on. "Some of that money came from a Chinese company and went to Hunter Biden's company. Other transfers occurred with the help of Rob Walker, who then sent it to different Biden family members. This is not how lawful businesses operate."
"Chinese nationals affiliated with the Bidens, created limited liability companies in the United States, and then in a short period of time transferred their interest to a Chinese company that sent money to the Bidens," Comer said. "This is not normal. Hunter Biden and his associates courted business in countries that correlated directly with Joe Biden's work as vice president."
Watch:
"Instead of being honest with the American people, President Biden has claimed since the 2020 election that his family has not received money from China," Comer said. "That was a lie in 2020, and he continues to lie to the American people. Now, the Bidens have received millions of dollars from China. It is inconceivable that the president did not know it. The White House refuses to correct the president's statements showing the President is now using the federal government to run interference for his families and his own role in these schemes."
Watch:
House Republicans also announced that they are issuing a new round of bank subpoenas to uncover more information about the Biden Crime Family's influence peddling.
Comer has set a deadline of noon, Wednesday, for the FBI to deliver the document that shows Joe Biden took bribes while he was Vice President.