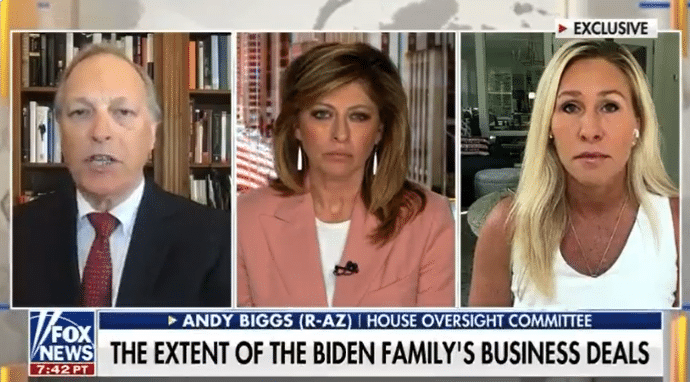 During an appearance on Fox News' Sunday Morning Futures, U.S. Representatives Marjorie Taylor Greene (R-GA) and Andy Biggs (R-AZ) discussed the steps that Republicans can take to initiate impeachment proceedings against both Joe Biden and FBI Director Christopher Wray.
"The Bidens are being paid millions and millions of dollars from all these foreign countries that we know they have no business to prove that they're producing a product or a service," Greene told Fox News host Maria Bartiromo. "Hunter Biden is a crackhead. His evidence that we have on him, showing all of these prostitutes coming from Ukraine, coming from Russia. This shows that this man only was purely profiting from his father's powerful positions."
"Joe Biden absolutely should be impeached," she continued. "But I gotta tell you, Maria… so should Christopher Wray.
"Christopher Wray is no dummy, he has quite a law career. He comes from a very respected firm, King and Spalding, here in Georgia. This is a man that knows exactly what he's doing," Greene said. "And he's using the power of the FBI director's position to protect and hide the crimes from the American people."
"These are unclassified forms, everyone should be outraged," she continued. "I'm demanding impeachment, I'm with the American people and it doesn't bother me that the conference is not there yet. I think it's the right thing to do."
Bartiromo asked Rep. Biggs what the process is for impeachment and how that gets started.
"First thing we should do is we should take a preferred motion to the floor, so it would get priority, and then it goes to the House Judiciary Committee, we do our inquiry, and then we recommend a motion to the entire body," Biggs said.
During the discussion, Biggs said, like Greene, he recognizes that there is a substantial portion of their conference who have not reached a consensus on this matter. "Unfortunately, I recognize what Marjorie does, that there is a significant number in our conference who aren't there yet," Biggs said.
"Impeachment is basically to remove somebody from office who you cannot wait for the next election, and I don't know how we can wait for another 18, 19 months, with Joe Biden in there," he continued. "When we know he's corrupt, and we don't know he compromised he is with places like China. We don't know if we're in Ukraine because he had some debts and obligations that he had to repay."
"All of these things come to bear on whether you impeach somebody, and I think Joe Biden has impaired our safety, and our security, and our prosperity as the president of the United States."
Watch: