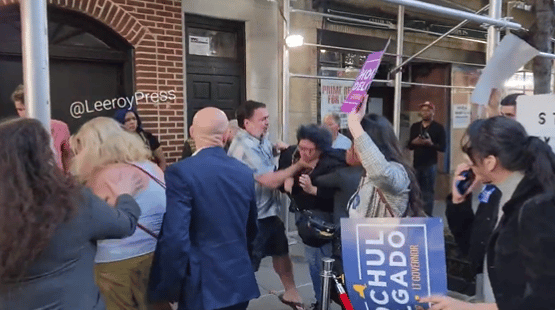 At an event for New York Governor Kathy Hochul on Saturday, a woman protesting Hochul was attacked and choked by a man in the crowd.
New York State Senator Brad Hoylman, a Democrat, took to Twitter and stupidly called for Republican candidate Lee Zeldin to disavow the political violence perpetrated by a Democrat.
"Our democracy is under greater threat than ever from political violence @leezeldin must disavow these supporters of his campaign."
Screenshot back up below in case his tweet is deleted.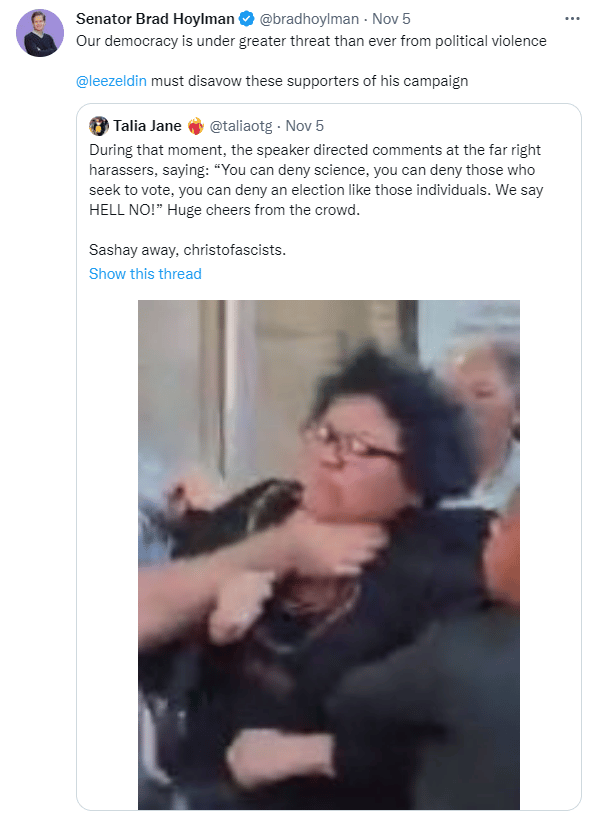 The New York Post reported:
A female protester at a Gov. Kathy Hochul rally in Manhattan was choked by a man during a skirmish Saturday evening that also involved a New York City lawmaker, footage shows.

The melee occurred near the landmark Stonewall Inn, where the Democratic candidate Hochul was appearing with Bravo host Andy Cohen to shore up LGBTQ support in the days before the gubernatorial election.

Footage captured by the independent Viral News NY showed the middle of the altercation, in which a man in shorts and a plaid short-sleeve shirt choked a woman wearing a black sweatshirt.

Councilwoman Crystal Hudson, a Democrat who represents Prospect Heights in Brooklyn, was also seen tussling with the woman, who at one point shoved the lawmaker. Hudson did not immediately respond to The Post's request for comment

"I was here holding my sign, and … peaceful protest, against you know, Gov. Hochul, and a woman — a very large heavyset woman, I'm assuming, you know, might have been a man — came and took my sign"

"As I was trying to retrieve my sign, there was another man that came and choked me, and there were two other people that were coming and preventing me from trying to get my sign.

"Never wanted to get physical with anyone, I was just there peacefully just holding my sign, and you know, they didn't want to hear what I had to say."
The woman was treated by medical personnel following the attack.