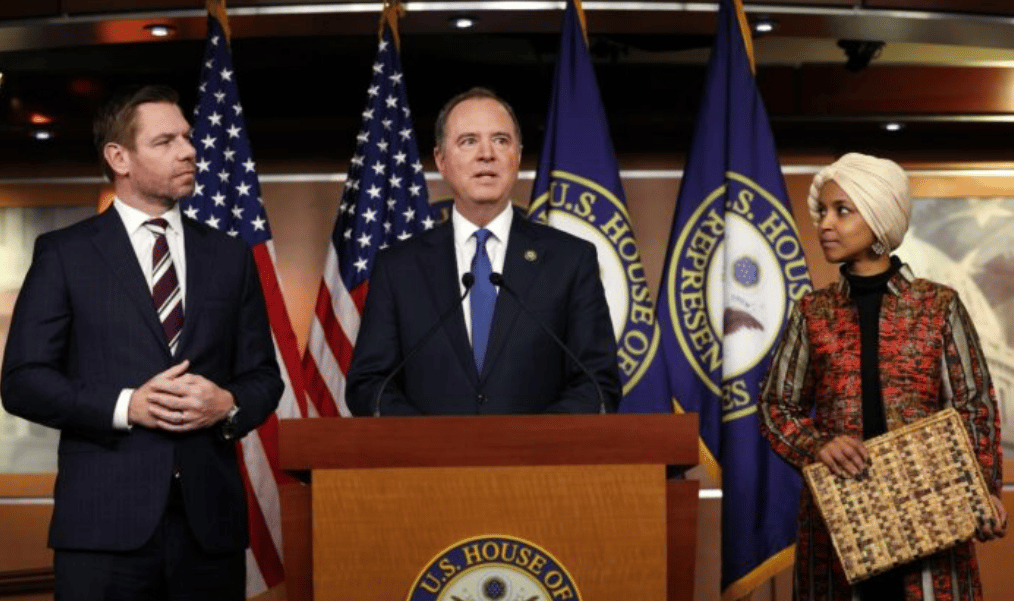 On Tuesday night, just as he has promised, Speaker Kevin McCarthy (R-CA) rejected the reappointments of Reps. Adam Schiff (D-CA) and Eric Swalwell (D-CA) to the House Intelligence Committee. Despite McCarthy repeatedly warning he would take such action, on Monday House Minority Leader Hakeem Jeffries (D-NY) nominated the embattled Democratic members to the committee.
While the minority party's recommendations have typically been seated, McCarthy has the power to decline to seat members without relying on a full floor vote of the chamber.
McCarthy tweeted the letter he sent to Jeffries. While his letter did acknowledge "I appreciate the loyalty you have to your Democratic colleagues, and I acknowledge your efforts to have two Members of Congress reinstated to the House Permanent Select Committee on Intelligence," McCarthy nevertheless reminds Jeffries that allowing Schiff and Swalwell to serve on the committee is something he cannot do.
"But I cannot put partisan loyalty ahead of national security, and I cannot simply recognize years of service as the sole criteria for membership on this essential committee. Integrity matters more," the letter continued. 
Schiff is one of the longest-serving members during its 45-year history. He has served as the committee's chairman and was looking to be its ranking member.
Towards the closing of his letter, McCarthy added, "that the misuse of this panel during the 116th and 117th Congresses severely undermined the primary national security and oversight missions–ultimately leaving our nation less safe." McCarthy closes by mentioning his commitment to "returning the Intelligence Committee to one of genuine honesty and credibility that regains the trust of the American people."
In pledging to keep Swalwell and Schiff off of House committees in this Congress, McCarthy has cited their past conduct: In Swalwell's case, because of his ties to Chinese spy Fang Fang; and for Schiff, because he lied to and misled the American people on the Ukrainian whistleblower and the "Russia collusion" hoax.
McCarthy has also promised to keep Omar off the Foreign Affairs Committee, where she previously served, due to her antisemitism, which her Democratic colleagues have largely downplayed.