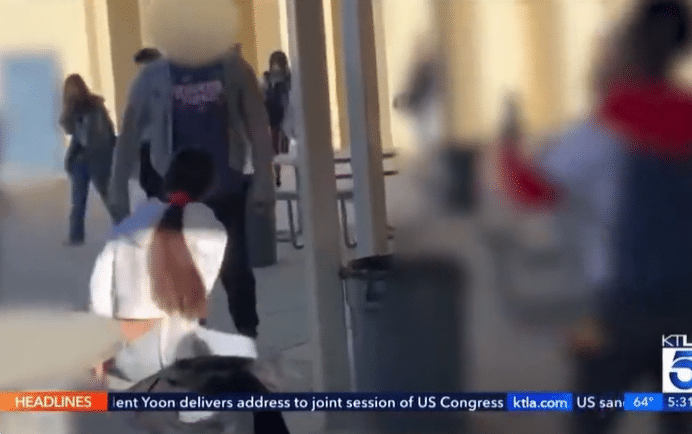 A large trans-identified, biological male student at a Riverside, California high school assaulted a girl after exposing his genitals in the girls' locker room this week.
The transgender student at MLK High School reportedly spit on the girls and exposed his genitals before physically assaulting them.
"He's [in the] girls' locker room, using girls' restrooms," said MLK student Aiden Vermeir. "He spit on my friends that are girls, females. He shows his genitals in the locker room."
Fox LA reported:
Across social media, videos show a brawl breaking out at Riverside's Martin Luther King High School. What began as two students arguing on campus turned into a brawl involving a student who identifies as transgender.

While fights aren't uncommon on high school campuses across the country, but families and students at MLK tell FOX 11 that the transgender student from the viral fight video has a history of erratic and uncomfortable behavior.

Parents and students tell FOX 11 that the said student has access to the girls' locker rooms and bathrooms.

In a statement released by the Riverside Unified School District, the student at the center of controversy no longer attends MLK.
Watch:
The transgender student was expelled from the school, according to a statement from Riverside Unified School District.
Below is a full statement issued by the school district:
A video depicting an altercation involving students at Martin Luther King High School has been widely circulated on social media this week. This matter has had the full attention of Riverside Unified School District administration and is being addressed expeditiously.

Since the incident occurred, District staff has been working to ensure the safety and rights of all students are considered and promptly responded to. We are able to verify that the student involved will no longer be attending King High School.

We encourage those who have taken interest in this story to respect the confidential nature of our specific discussions with those involved and the efforts we will continue to make to ensure we provide an appropriate learning environment for each student as required by law.