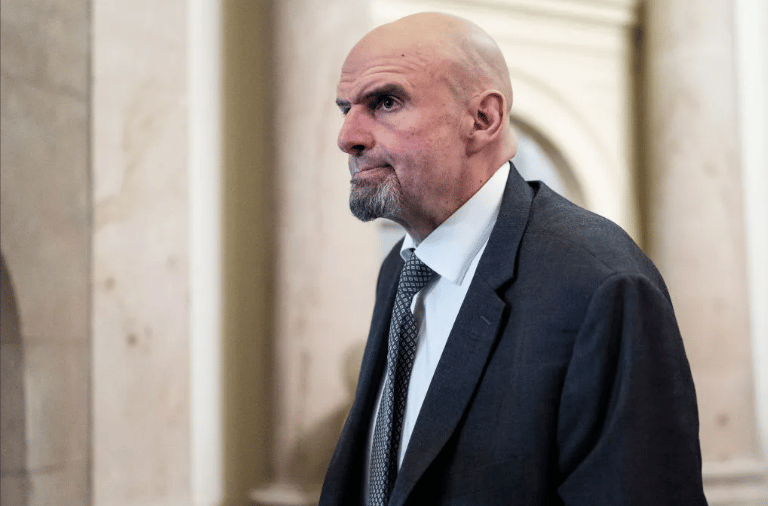 Sen. John Fetterman (D-PA), who is still recovering from a debilitating stroke last year, will likely be hospitalized "for a few weeks" while getting treatment for clinical depression, NBC News reported.
Fetterman checked himself into Walter Reed National Military Medical Center in Bethesda, Maryland, Wednesday night according to his office.
Fetterman was hospitalized for several days while doctors performed tests after he reported feeling lightheaded. All tests were reported to be negative and Fetterman returned to work at the Senate where he participated in a committee hearing on Wednesday.
From NBC News:
U.S. Sen. John Fetterman checked himself into Walter Reed Medical Center to be treated for clinical depression.

The first-term Pennsylvania Democrat's Senate office said he checked himself into the Washington, D.C., facility Wednesday night.

"While John has experienced depression off and on throughout his life, it only became severe in recent weeks," his office said in a Thursday news release.

"On Monday, John was evaluated by Dr. Brian P. Monahan, the Attending Physician of the United States Congress. Yesterday, Dr. Monahan recommended inpatient care at Walter Reed," his office wrote. "John agreed, and he is receiving treatment on a voluntary basis.

"After examining John, the doctors at Walter Reed told us that John is getting the care he needs, and will soon be back to himself."

A senior aide told NBC News that Fetterman, 53, will likely remain in inpatient care for clinical depression for "a few weeks."
Fetterman's wife Gisele, who pushed him to continue with his run for the Senate, issued a statement on Thursday asking for privacy.
When NBC News reporter Dasha Burns accurately reported on Fetterman's obvious cognitive dysfunction, the left piled on her. Gisele demanded that the journalist issue "an apology towards the disability community from her and from her network for the damage they have caused."
Now, Fetterman is hospitalized for the second time, just 6 weeks after being sworn in.
Last week, The New York Times reported that Fetterman has experienced "serious mental health challenges" that have taken a "psychological toll" on him.
From the New York Times article:
…Fetterman, 53, the 6-foot-8, tattooed and goateed Democrat from Pennsylvania who suffered a near-fatal stroke last May and went on to win one of the most competitive seats in November's midterm elections, was never going to blend in seamlessly in the marbled corridors of Congress.

But his adjustment to serving in the Senate has been made vastly more difficult by the strains of his recovery, which left him with a physical impairment and serious mental health challenges that have rendered the transition extraordinarily challenging — even with the accommodations that have been made to help him adapt.

"What you're supposed to do to recover from this is do as little as possible," said Adam Jentleson, his chief of staff. Instead, Fetterman "was forced to do as much as possible — he had to get back to the campaign trail. It's hard to claw that back."

…The latest health scare convinced his staff that Fetterman needs a better plan to take care of himself, both physically and emotionally.

Fetterman declined to be interviewed for this story. But aides and confidants describe his introduction to the Senate as a difficult period, filled with unfamiliar duties that are taxing for someone still in recovery: meetings with constituents, attending caucus and committee meetings, appearing in public at White House events and at the State of the Union address, as well as making appearances in Pennsylvania.

…The hearing issues are inconsistent; they often get worse when he is in a stressful or unfamiliar situation. When it's bad, Fetterman has described it as trying to make out the muffled voice of the teacher in the "Peanuts" cartoon, whose words could never be deciphered.

The stroke — after which he had a pacemaker and defibrillator implanted — also took a less apparent but very real psychological toll on Fetterman. It has been less than a year since the stroke transformed him from someone with a large stature that suggested machismo — a central part of his political identity — into a physically altered version of himself, and he is frustrated at times that he is not yet back to the man he once was. He has had to come to terms with the fact that he may have set himself back permanently by not taking the recommended amount of rest during the campaign. And he continues to push himself in ways that people close to him worry are detrimental.

"It is stressful, having to go through that experience in the context of the most high-profile Senate race in the country," said Jentleson.
The Democrats and Fetterman's family and friends sacrificed his mental, physical and emotional well-being to secure a 51st vote in the Senate. They should all be ashamed of themselves.