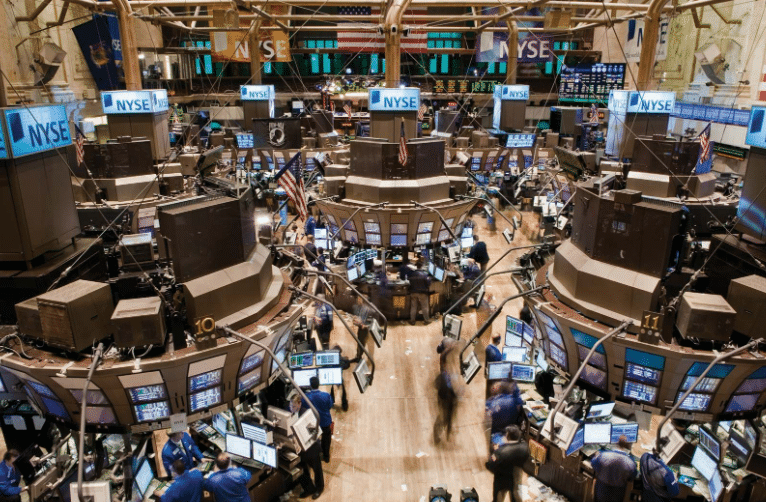 Trading was temporarily halted in dozens of regional banks Monday morning as shares fell by up to 75 percent at market opening, after Joe Biden claimed, "US banking is safe."
Trading at over 30 banks has been halted. Is the bank collapse happening in real time?
Major US banks were also hit as fear spread through the sector with Wells Fargo plummeting 7.5 percent, Bank of America falling 7.4 percent, Citigroup plunging 5.8 percent and JP Morgan down 2.7 percent.
The NYSE halted trading at Charles Schwab.
Market Watch reported:
To gauge the panic-like activity of bank investors in the wake of the recent failures of SVB Financial Group's SIVB, Silicon Valley Bank and Signature Bank SBNY, -22.87%, investors can check out the Nasdaq's "Current Trading Halts" page. Multiple banks have had their stock halted for volatility, some more than once, since the opening bell. Among some of those that have already been halted at least twice, shares of Western Alliance Bancorp WAL, -82.55% plummeted 78.2%, Regions Financial Corp. RF, -7.54% sank 15.6%, First Republic Bank FRC, -77.82% plunged 65.5%, Comerica Inc. CMA, -38.51% tumbled 39.4% and PacWest Bancorp. PACW, -53.44% took a 47.7% dive. The selloffs come as the S&P 500 SPX, -0.11% inched up 0.1%, erasing an earlier drop of as much as 1.4%.
Earlier Monday morning, Biden addressed the nation from the Roosevelt Room in the White House as he attempted to prevent a bigger catastrophe from hitting the financial system, following the collapse of Silicon Valley Bank on Friday.
"Americans can have confidence that the banking system is safe," he said just minutes before the market opened.
Joe Biden was caught on tape discussing how to use the media to prevent a bank run amidst a total collapse of the world economy.
From the Daily Caller:
Stock exchanges temporarily halted trading for several bank stocks Monday following a pre-market trading collapse in response to the government taking control of Silicon Valley Bank (SVB) and Signature Bank.

First Republic bank stock plunged by nearly 70% before trading was temporarily halted, leading the market decline in the banking sector. Likewise, stock trading was temporarily halted for Western Alliance Bancorp, Regions Financial Corp., Zions Bancorp, Comerica Inc., and PacWest Bancorp because of volatility in early morning trading, per the NASDAQ.
The Daily Caller cont…
The sharp declines in bank stock valuations reflects the panic from investors following the sudden collapse of Silicon Valley Bank on Thursday, the largest financial meltdown since 2008.

SVB sold $21 billion of securities purchased in 2020 at a $1.8 billion loss due to the Federal Reserve's interest rate hikes. A run on the bank was initiated by Venture Capitalists on Wednesday because SVB had stored its capital in long term treasuries, making it difficult to provide capital for companies in need of loans, according to Bloomberg.

Regulators seized Silicon Valley Bank to protect customers on Friday and announced a plan to protect all of the bank's depositors on Sunday night. Signature Bank was also seized by regulators on Sunday, when it became the third largest financial institution to ever fail in the wake of the SVB failure.