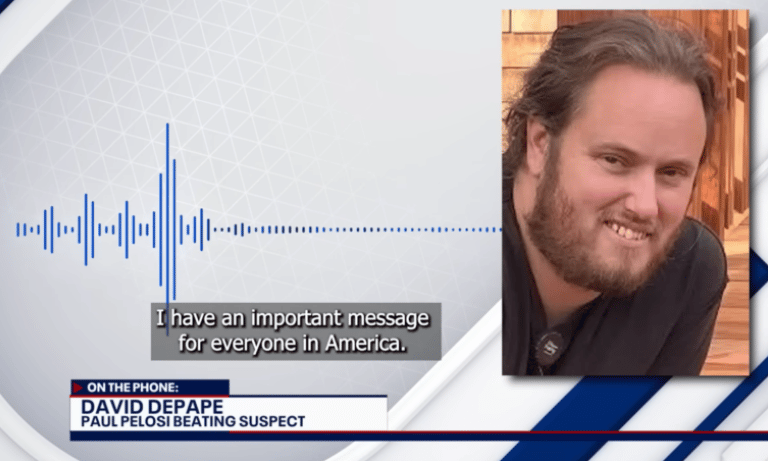 On Friday, Paul Pelosi attacker David DePape supposedly called into KTVU newsroom from San Francisco County Jail Friday and left a bizarre message which he called an "important message."
The call came just hours after video footage was released showing him hitting Mr. Pelosi over the head with a hammer.
The body cam video showed Pelosi in his underwear holding a drink in his hand when David DePape hit him with a hammer.
DePape is being held without bail on state and federal charges and has an ICE detainer for deportation.
While on the phone with the local station, DePape said "you're welcome" for the violent attack.
DePape made it clear that he didn't want to jeopardize his case but said that "liberty isn't dying, it's being killed systematically and deliberately."
The "people killing it have names and addresses, so I got their names and addresses so I could pay them a little visit … have a heart-to-heart chat about their bad behavior," he said.
"I want to apologize to everyone. I messed up. What I did was really bad. I'm so sorry I didn't get more of them. It's my own fault. No one else is to blame. I should have come better prepared," he said.
DePape has been held in San Francisco County Jail since the end of October of last year awaiting trial. He faces extremely serious charges, to which he has pleaded not guilty, that could land him behind bars for up to 50 years.
Yet, somehow, he allegedly made a phone call to the KTVU news station with a "message for America", confessing to the crimes and implying that, if given the chance, he would have a "heart-to-heart chat" with the people he says are trying to destroy liberty because he "got their names and addresses".
Wow! What amazing luck for the prosecution.
DePape (or the man we are told is DePape) sounds like he is reading off of a script and/or being coached on what to say.
DePape (transcribed by The Gateway Pundit):
Now that you all have seen the bodycam footage, I have an important message for everyone in America. Freedom and liberty isn't dying, it's being killed systematically and deliberately. The people killing it have names and addresses. So I got their names and addresses so I could pay them a little visit. Have a heart to heart chat about their bad behavior. The tree of Liberty needs watering, he needs men of valor. Patriots willing to put their own lives on the line to stand in opposition of tyranny.

I would also like to apologize. I want to apologize to everyone. I messed up. What I did was really bad. I'm so sorry I didn't get more of them. It's my own fault. No one else is to blame. I should have come better prepared.
I spent all my time exposing government corruption online, only to have them silence my freedom of speech as quickly as they could. It circumvented the Constitution. Private industry and the ruling class outsources the recession of these civil tights to private industry–it's called fascism. I have a lot more to say. I had a website of over three hundred pages. That's three hundred pages of stuff they don't want you to hear. I'm in the process of trying to set up a new site out of the reach of tyrannical global fascists and their internet censors."
Listen via KTVU on YouTube: