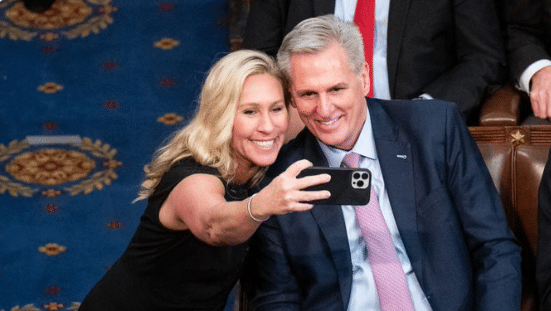 Representative Andy Harris (R-MD), a member of the House Freedom Caucus, informed Politico on Thursday that Representative Marjorie Taylor Greene (R-GA) has been ousted from the caucus through a vote.
"A vote was taken to remove Marjorie Taylor Greene from the House Freedom Caucus for some of the things she's done," said Rep. Andy Harris (R-Md.).
Representative Harris cited Representative Greene's behavior towards Representative Lauren Boebert as the primary reason for her removal from the caucus. He expressed his disappointment, stating, "I think the way she referred to a fellow member was probably not the way we expect our members to refer to other fellow, especially female, members." The reported incident involved Greene allegedly using derogatory language, referring to Boebert as a "little bitch" during a heated exchange. While not explicitly denying the influence of additional factors, Harris acknowledged that the incident involving Boebert played a significant role in the decision to remove Greene from the caucus.
Representative Harris acknowledged that multiple factors contributed to Representative Greene's departure from the caucus, including her divergence from the caucus position on the debt deal agreement between McCarthy and Biden. However, he emphasized that the tipping point was Greene's public statements about another member, which he deemed inappropriate. With Greene no longer being a member of the caucus, she will no longer have the privilege of attending its meetings.
During the debt deal negotiations, the Freedom Caucus stood firm against the agreement reached between the Speaker and Joe Biden. One member even described the deal as "insanity." Despite their opposition, the deal eventually secured approval in both chambers of Congress. Representative Greene, at the time, acknowledged that while the agreement was not perfect and contained aspects she disagreed with, it included spending cuts that would save the American people money. Consequently, she voted in favor of the deal.
NPR Politics noted that Representative Greene's departure from her faction and alignment with House Speaker Kevin McCarthy had immediate advantages. As a result, she was being recommended for a potential role on the Homeland Security committee.
The recent vote by the House Freedom Caucus holds historical significance, as it is the first instance of a member being formally ousted from the faction. Former Representative Justin Amash (R-MI), who played a key role in founding the conservative group, resigned from it following his criticism of President Trump during the initial impeachment proceedings.