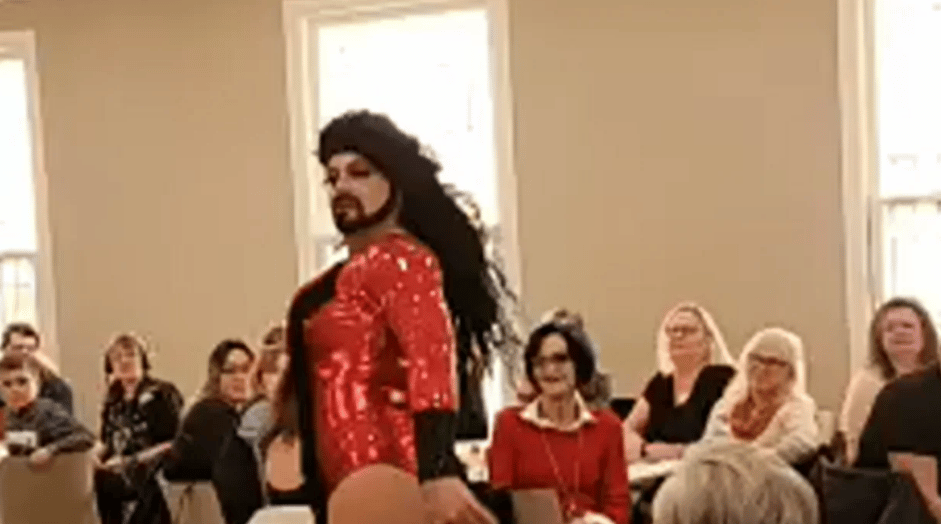 Blaze TV host Sara Gonzales attended a family-friendly drag bingo event, "Beauty and the Bingo", on Saturday in Princeton, Texas inside a community center, formerly First United Methodist Church.
Gonzalez was eventually removed from the premises, but luckily the organizers streamed the entire show on Facebook. Gonzalez posted a video clip on Twitter from the event that begins with a bearded drag queen proposing a toast to the audience. He fired off the sexually explicit remarks, even after acknowledging that there were children in the audience.
Now, I'm going to do a quick little cheers that I normally do. I mean, I know there's little babies here. But close your ears (laughs).

This is just a tradition all (drag) shows normally do. So raise your glasses. Cheers to you, cheers to me, cheers to the ones who lick us where we pee.
Watch:
The video then shifts to drag queens dancing with bottoms exposed to a series of songs including Shania Twain's famous single "Man! I feel Like A Woman." Near the end of Twain's song, one throws his tip money on the ground and little children run to return the cash.
Gonzales's video concludes with the bearded drag queen thanking the "little helpers" for returning the money.
Independent journalist Tayler Hansen reported that the drag bingo event was guarded by armed members of Antifa: