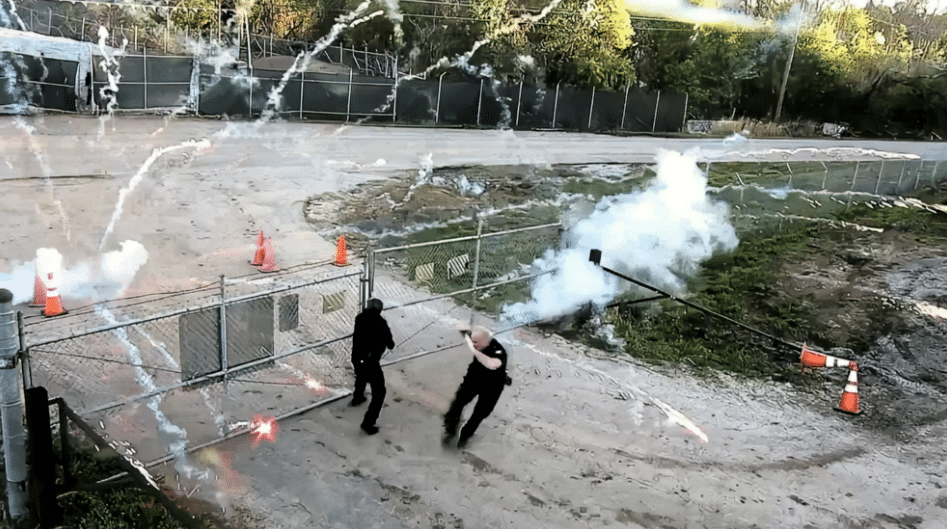 Police and members of the far-left domestic terrorist group, Antifa, clashed at the construction site of Atlanta's future police training facility Sunday night.
The site, nicknamed "Cop City" by Antifa members, went into lockdown as crews had to extinguish fires in the area.
Molotov cocktails, fireworks, bricks, and rocks were reportedly thrown by Antifa militants.
"Huge plumes of smoke and massive police response after @defendATLforest/#StopCopCity protesters face off with police at the site of Atlanta's future Public Safety Training Facility. I'm told Molotov cocktails were thrown. Construction equipment is on fire now. This is on Key Road SE. Police are moving quickly to various areas across the expansive site," FOX 5 Atlanta photojournalist Billy Heath III tweeted.
Fox 5 Atlanta reports:
The site of Atlanta's future Public Safety Training Facility infamously called 'Cop City' by protestors is now on lockdown as smoke and flames were put out, and the area was secured. FOX 5 saw SWAT reporting to the scene as night fell.

Just before 8 p.m., a FOX 5 reporter on the ground said she heard something that resembled the sound of fireworks or gunshots, but has not yet had that detail confirmed by officials.

There was a massive police presence along Key Road in southeast Atlanta early Sunday evening as FOX 5 was told protestors were actively clashing with officers. Officials said at least one construction vehicle was set on fire.

We have since been told the protest has been contained and many of the protestors have scattered into the woods.

A Georgia State Trooper told FOX 5 photographer Billy Heath that rocks, sticks and even a Molotov cocktail were thrown at police.
This is clearly domestic terrorism, yet Biden's corrupt DOJ is more interested in harassing concerned parents than investigating actual violent domestic terrorists.
Police released additional footage of the violent attack:
The Atlanta Police Department released a statement:
On March 5, 2023, a group of violent agitators used the cover of a peaceful protest of the proposed Atlanta Public Safety Training Center to conduct a coordinated attack on construction equipment and police officers. They changed into black clothing and entered the construction area and began to throw large rocks, bricks, Molotov cocktails, and fireworks at police officers.

The agitators destroyed multiple pieces of construction equipment by fire and vandalism. Multiple law enforcement agencies deployed to the area and detained several people committing illegal activity. 35 agitators have been detained so far.

The illegal actions of the agitators could have resulted in bodily harm. Officers exercised restraint and used non-lethal enforcement to conduct arrests.

With protests planned for the coming days, the Atlanta Police Department, in collaboration with law enforcement partners, have a multi-layered strategy that includes reaction and arrest.

The Atlanta Police Department asks for this week's protests to remain peaceful.
Rep. Marjorie Taylor Greene (R-GA) said she will introduce a resolution on Tuesday to designate Antifa as a terrorist group.
Breaking Digest reported in January when Rep. Greene initially announced the resolution, following a weekend of violent protests in Atlanta.
FOX 5 Atlanta reported Rep. Greene's comments:
Rep. Marjorie Taylor Greene, R-Ga., said Sunday she will be introducing a resolution declaring Antifa a terrorist group in response to protests in Atlanta that left a police training facility on fire.

"Antifa are domestic terrorists and I'm introducing my resolution to officially declare them a terrorist organization on Tuesday," the congresswoman wrote in a tweet Sunday night. Smoke and flames were seen coming from equipment at the future Atlanta Public Safety Training Center, which has been called "Cop City" by anti-police protestors. Video taken by FOX 5 shows a bulldozer and other pieces of equipment on fire.

The training facility is located in southeast Atlanta on Key Road, where protestors opposing the construction of the facility clashed with police. A Georgia State Trooper told the outlet that a Molotov cocktail was thrown.