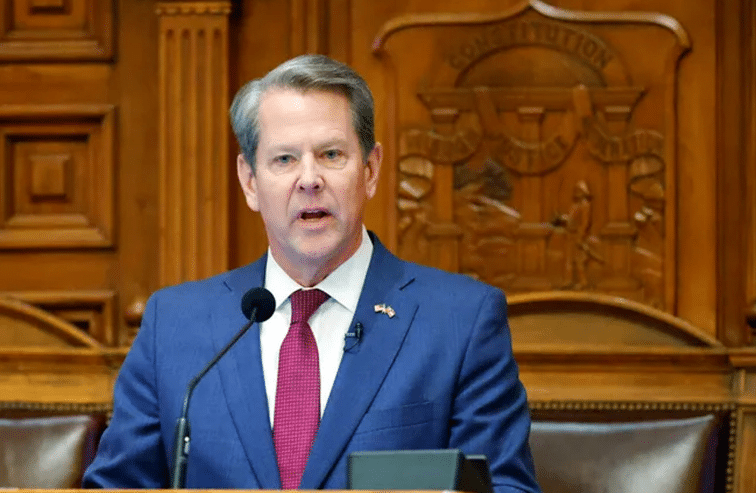 Georgia Governor Brian Kemp signed Senate Bill 92 into law in May, enabling the removal of elected district attorneys from their positions.
This newly enacted legislation establishes a Prosecuting Attorneys Statewide Qualifications Commission, which holds the authority to investigate complaints against district attorneys and potentially dismiss them from their roles if deemed necessary.
The bill outlines various grounds for the discipline, removal, or involuntary retirement of a district attorney or solicitor-general, including:
mental or physical incapacity interfering with the performance of his or her duties which is, or is likely to become, permanent;
willful misconduct in office;
with respect to district attorneys, willful and persistent failure to carry out duties pursuant to Code Section 15-18-6;
with respect to solicitors-general, willful and persistent failure to carry out duties pursuant to Code Section 15-18-66;
conviction of a crime involving moral turpitude;
conduct prejudicial to the administration of justice which brings the office into disrepute; or
knowingly authorizing or permitting an assistant district attorney or assistant solicitor-general to commit any act constituting grounds for removal under paragraphs (1) through (6) of this subsection.
This development is particularly significant given the current circumstances. Fani Willis, a Democrat holding the position of Fulton County district attorney, is currently investigating President Trump for questioning the 2020 election. This inquiry closely mirrors the persistent efforts undertaken by Stacey Abrams and other Democrats who have consistently raised similar doubts and advocated for enhanced election integrity.
Suspiciously, the Fulton County court website displayed a list of charges against Trump, including RICO charges, earlier on Monday, before the grand jury's deliberations were completed. The posted information was swiftly removed with no explanation.
According to a Fulton County clerk, the online documents depicting the Trump indictment were "fictitious."
The Office of the Fulton County Clerk of Superior and Magistrate Courts has learned of a fictitious document that has been circulated online and reported by various media outlets related to The Fulton County Special Purpose Grand Jury.

While there have been no documents filed today regarding such, all members of the media should be reminded that documents that do not bear an official case number, filing date, and the name of The Clerk of Courts, in concert, are not considered official filings and should not be treated as such.
President Trump's attorneys, Drew Findling and Jennifer Little, ripped Fulton County for prematurely publishing the potential charges against Trump prior to the grand jury's deliberations.
Regarding the documents that appeared online, President Trump's legal team remarked, "This was not a simple administrative mistake."
"The Fulton County District Attorney's Office has once again shown that they have no respect for the integrity of the grand jury process. This was not a simple administrative mistake. A proposed indictment should only be in the hands of the District Attorney's Office, yet it somehow made its way to the clerk's office and was assigned a case number and a judge before the grand jury even deliberated," the lawyers wrote.
"This is emblematic of the pervasive and glaring constitutional violations which have plagued this case from its very inception," they said.
Suspiciously, the charges against Trump in the Fulton County indictment are an exact match to those that were briefly posted on the court's website, which they dismissed as "fictitious."
On Monday evening, Fox News correspondent Bryan Llenas confronted Fani Willis about the illegal leak, highlighting that the charges presented in the indictments were an exact match to the information briefly released by the Fulton County Clerk earlier that morning.
"There was a fictitious document, according to the Fulton County Clerk's Office, that was circulated online with charges against former President Donald Trump. That fictitious document matched exactly the charges that we now see in this indictment. Can you tell us more about that document leak? Because now you have the former president's lawyers who are saying that this is emblematic of a serious problem with your office," Llenas asked.
"No, I can't tell you anything about what you refer to. What I can tell you is that we had a grand jury here in Fulton County. They deliberated til almost 08:00, if not right after 08:00, and indictment was returned. It was true billed, and you now have an indictment. I am not an expert on clerk's duties or even administrative duties. I wouldn't know how to work that system. And so I'm not going to speculate. Next question," said Willis.
Watch via The Gateway Pundit on Rumble:
According to Paul Sperry, "Georgia state records show that Fulton County D.A. Fani Taifa Willis — whose father was a member of the militant Black Panthers — has contributed $6,424 to the Georgia Democratic Party and Democrat candidates."
Sperry added, "In addition, former prosecutors also point out that Fulton County D.A. Fani Willis went far outside her lane by including other jurisdictions in her indictment, including Pennsylvania, Arizona and Michigan."
Posting charges against President Trump before the grand jury's deliberations were completed could be viewed as willful misconduct.
Considering these aspects alone, it is necessary to remove Fulton County District Attorney Fani Willis from her position.