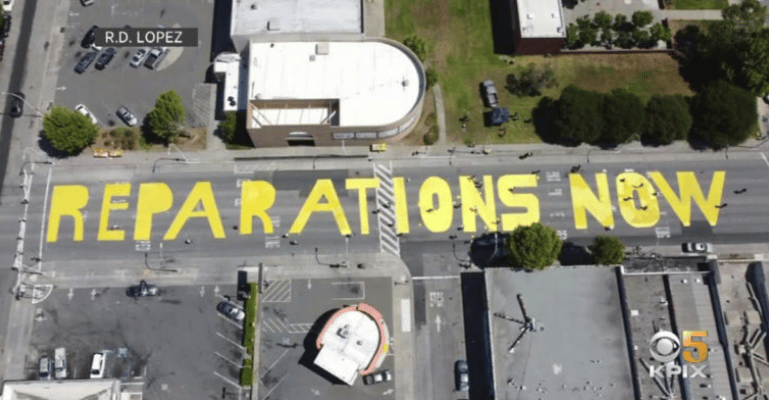 The San Francisco African American Reparations Advisory Committee (AARAC) has proposed a plan to pay black residents $5 million each as reparations for "decades of harm they have experienced."
In addition to the $5 million in cash, the committee is also proposing a debt forgiveness plan just for black people.
That's not all… the committee also plans to supplement lower-income blacks so they can afford housing.
It's worth noting that California was never a slave state.
"While neither San Francisco, nor California, formally adopted the institution of chattel slavery, the tenets of segregation, white supremacy and systematic repression and exclusion of Black people were codified through legal and extralegal actions, social codes, and judicial enforcement," the proposed draft says.
"A lump sum payment would compensate the affected population for the decades of harms that they have experienced, and will redress the economic and opportunity losses that Black San Franciscans have endured, collectively, as the result of both intentional decisions and unintended harms perpetuated by City policy," the draft says.
Eligibility for the reparations will be based on applicants being 18 or older and having identified as black or African American on public documents for at least 10 years.
FOX News reported:
San Francisco's reparations committee has proposed paying each Black longtime resident $5 million and granting total debt forgiveness due to the decades of "systematic repression" faced by the local Black community.

The San Francisco African American Reparations Advisory Committee, which advises the city on developing a plan for reparations for Black residents, released its draft report last month to address reparations – not for slavery, since California was not technically a slave state, but "to address the public policies explicitly created to subjugate Black people in San Francisco by upholding and expanding the intent and legacy of chattel slavery."

To be eligible for the program, the applicant must be 18 years old and have identified as Black or African American on public documents for at least 10 years. They must also prove at least two of eight additional criteria, choosing from a list that includes, "Born in San Francisco between 1940 and 1996 and has proof of residency in San Francisco for at least 13 years," and/or, "Personally, or the direct descendant of someone, incarcerated by the failed War on Drugs."

The plan also calls on the city to supplement lower-income recipients' income to reflect the Area Median Income (AMI), about $97,000, annually for at least 250 years.

"Racial disparities across all metrics have led to a significant racial wealth gap in the City of San Francisco," it argues. "By elevating income to match AMI, Black people can better afford housing and achieve a better quality of life."
California Governor Gavin Newsom also has a reparations committee recommending a huge transfer of wealth to blacks in the state.
Governor Gavin Newsom's reparations committee will recommend $223,000 per person who is a descendant of slaves.
There are approximately 2.5 million blacks in California.
The total cost for this massive transfer of wealth to people who were never slaves – from a group of people who never owned slaves = $559 BILLION!
The reparations committee is focusing on so-called 'housing discrimination' that impacted blacks between 1933 and 1977.